Out-guess, outscore, and outplay in this picture quiz challenge.
PlayPhoto : Trivia Picture Quiz 1000s of Quizzes
by Kwalee
watch trailer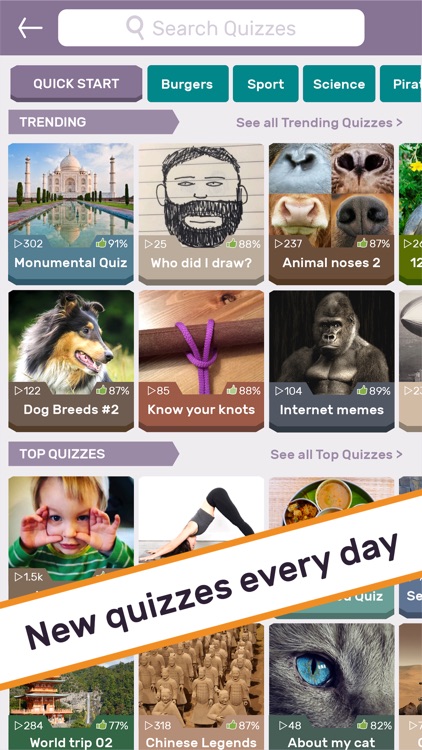 Removed

from the App Store
PlayPhoto – Free Quiz Picture Game puts you against opponents selecting correct answers based off of questions surrounding pictures. The game offers thousands of quizzes in dozens of categories. Play games made by the community, use power-ups and boosts, and turn your own photos into quizzes.
What is it about?
PlayPhoto – Free Quiz Picture Game is a social challenge where you choose the correct answer to outscore your opponent. The community quizzes are based on photos, you can also create your own, and the game offers a global leaderboard. With iMessage support, scramble photos to send to friends and test their unscrambling skills.
For those who...
Enjoy community-based games
Like creating your own quizzes
Not for those who...
Do not like trivia-type challenges
Prefer single-player games
Why we love it
PlayPhoto – Free Quiz Picture Game is a fun mix of trivia and photos in a race to be the highest scorer.
PlayPhoto is FREE but there are more add-ons
$0.99

Gems Pack 1

$4.99

Gems Pack 2

$2.99

Gems Pack 3

$20.99

Gems Pack 6

$14.99

Gems Pack 4

$19.99

Gems Pack 5

$74.99

Gems Pack 8
App Store Description
PlayPhoto - the ultimate photo quiz game! Thousands of quizzes to play, or create your own!

Turn every photo into a fun game using PlayPhoto, the FREE social quiz app that transforms every selfie, screenshot and landscape into an interactive quiz experience. Only PlayPhoto turns your camera and photo library into an interactive game for everyone to share!

Play games made by the PlayPhoto community using 4 fantastic Game Modes, including all time favorites "Tap The Pic" and "Hangman", or put other players skill and knowledge to the test with your own creations.

Use power-ups and boosts to help out with the most intense games and collect tags to climb the global leaderboards in your favorite genres. Beat your opponents to win crazy titles that show off your mastery and dominance!

PlayPhoto, the ultimate social game maker. Download today and turn your phone and photos into the ultimate quiz machine!

Also available - the PlayPhoto iMessage app. Send shuffled photos to your friends via iMessage and challenge them to solve the puzzle in as few moves as possible. Download for free from the App Store for iMessage now!

PlayPhoto Features:

*** PLAY thousands of quizzes across dozens of categories for FREE!
Browse games in the social feed to find free content from other users. Find almost unlimited trivia games and memory challenges to feed your addiction.

*** CHALLENGE friends and players globally to photo quizzes!
Go head to head in a battle for quiz dominance and earn coveted titles to show off your trivia prowess.

*** CREATE games from your photo collections!
Use PlayPhoto to easily create quizzes and trivia challenges from any photo, whether it's on your camera, in your library or from the web. Simply choose your game mode, select your photo, add text and save!

*** PUBLISH quizzes for use in Challenge Mode
Publish the best games you've created and challenge the world to "Spot the Difference" or "Click the Pic" in difficult challenges.

*** SHARE your own private quizzes with friends
Relive those shared memories and experiences with fun, personalized and private games for your friends.

*** COMPETE on quiz leaderboards
Battle against other users to be the ultimate quiz master. Collect tags and rise up the category leaderboards.

*** LIKE, share & comment on the great photo quizzes you discover
Whether you're playing with friends or alone, PlayPhoto is always a great social experience. Interact with other users, like your favorite games and share content with the world.

*** GIFT your friends with lives and power-ups
Share the PlayPhoto love and shower your friends with gifts, from extra lives to bomb boosts. Give and you shall receive...

*** DISCOVER new friends
Make new friends with PlayPhoto users to see what they've been playing and creating, then challenge them to beat you.

Download PlayPhoto for FREE today!

Like us on Facebook or follow us on Twitter for the latest news:

facebook.com/PlayPhotoGames

twitter.com/PlayPhotoGame

*Minimum iOS version recommended: 9*


Emoji art supplied by EmojiOne - http://emojione.com