Love potatoes
Potato Recipes
by Zhaoyong Jing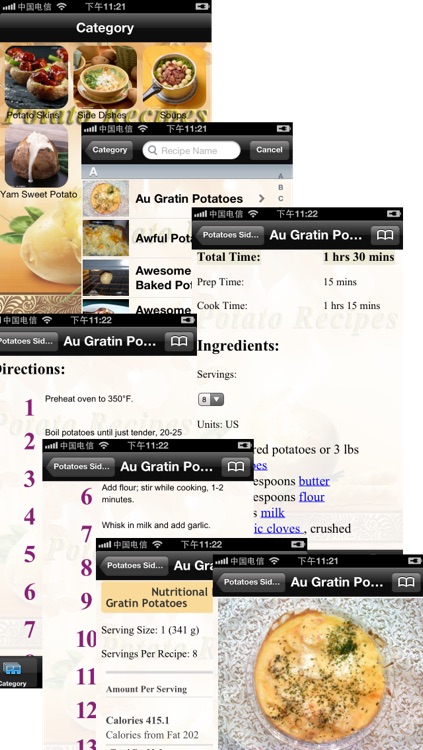 What is it about?
Love potatoes? Turn potatoes into a tasty dinner with one of our potato recipes like chips, perfect roast potatoes, sweet potato mash, potato soup, potato salad and baked potatoes.
App Store Description
Love potatoes? Turn potatoes into a tasty dinner with one of our potato recipes like chips, perfect roast potatoes, sweet potato mash, potato soup, potato salad and baked potatoes.

Potatoes today are an ubiquitous world-wide crop and an important food source for much of humanity (indeed, potatoes are the fourth largest food crop after rice, wheat and barley). As a result it's difficult to for us to remember that potatoes originate in the Americas and were unknown in the Old World before 1536.

In fact, potatoes are the starchy tubers of the plant Solanum tuberosum, a member of the Solonaceae (deadly nightshade) family of flowering plants. In fact, 99% of all potatoes grown world-wide are actually the cultivar Solanum tuberosum tuberosum and which derive from the Chiloé Archipelago where they were cultivated by the indigenous Chilean population.

The Spanish introduce d potatoes to Europe in 1536 and the food was spread world-wide by European mariners. Indeed, the English word 'potato' derives from the Spanish patata which, itself, is a portmanteau word formed from a compound of the Taino batata (sweet potato) and the Quechua papa (potato); which would seem to suggest that, originally at least, the potato was regarded as a type of sweet potato (rather than the other way around, which is a common misconception today). This supposition is borne-out by Elizabethan cookbooks which first mention 'potatoes' as a synonym for sweet potatoes. Only around 1610 and later are common potatoes (known as 'Virginia Potatoes' at the time) mentioned in the production of salads and various other dishes.

This confusion between potatoes and sweet potatoes persists today and in English speaking parts of sub-Saharan Africa potatoes are referred to as Irish Potatoes, to distinguish them from Sweet Potatoes which are also carbohydrate staples.

Potatoes are also incredibly versatile as a food source. Being a storage organ for the parent plant they pack lots of carbohydrate (in the form of starch) and thus considerable energy. However, 7% of this carbohydrate is indigestible to human and counts the same as dietary fibre (it's 14% if the potato is cooked and consumed cold). As a result, eating potatoes can be an important preventative against colon cancer. Interestingly potatoes also improve glucose tolerance and insulin sensitivity and are important in controlling diabetes. What is much less known is that potatoes can also plasma cholesterol and triglyceride concentrations. There is also a very interesting effect in that, though packed with carbohydrates potatoes also increase satiety so that eating baked or boiled potatoes will actually help with dieting. A single potato (with skin) will actually provide 45% of the body's daily requirement of vitamin C.

From the cook's viewpoint, potatoes are also very versatile in that they can be boiled, baked, shallow fried, deep fried, added as a bulking agent to fritters and stews or used as a thickening agent. It's also possible to extract the starch from the potato which can be used in the production of cakes, breads and cookies.

The potato is so important in terms of global nutrition that the United Nations designated 2008 as the 'year of the potato' in recognition of the potato's role in the nutrition of the developing world.
Disclaimer:
AppAdvice does not own this application and only provides images and links contained in the iTunes Search API, to help our users find the best apps to download. If you are the developer of this app and would like your information removed, please send a request to
[email protected]
and your information will be removed.