Use this great camera app in any low-light situation
ProCamera.
by Cocologics
$4.99

in the App Store
The low-light capture features are intuitive and can be used to take some great photos not possible with the stock iPhone camera. And the app can even be used on the Apple Watch. You can use the device as a remote control for the app and even view the images after they are captured.
A number of modes. To start, you can select from a number of different image capture modes including an HDR setting.
Say hello to settings. There are a nice number of settings you can adjust before taking photos.
Tilt mode. Perfect for anyone who hates off-center photos, the special Tilt Mode will show you exactly when your image is lined up.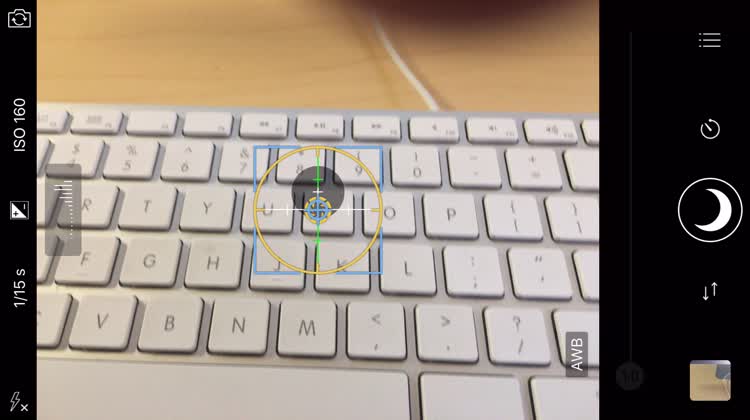 What is it about?
When you're ready to capture an image or video, just start the app up. There are a ton of different levels you can adjust quickly and easily.
For those who...
Want to take better pictures in low-light situations.
Like more control over their photos.
Want to be able to capture videos as well.
Not for those who...
Don't like to pay extra money to unlock features.
Don't shoot in low light.
Why we love it
ProCamera+ is one of the best third-party camera apps available. It's powerful and truly gives photographers more control over their images - especially if they shoot in low light. The ability to shoot video is a great added plus as well. You will need to pay extra to unlock some features with an in-app purchase, but the technology is definitely worth it.
ProCamera is $4.99 but there are more add-ons
$2.99

vividHDR

$2.99

Low Light and Slow Shutter Camera for Long Exposure photography

$0.99

San Fran

Free

Street
App Store Description
ProCamera, the gold standard for professional iOS photography, provides a highly intuitive interface for beginners as well as an impressive array of DSLR-like controls for experts. Leveraging the capabilities of the iPhone, ProCamera is easy to use yet deep when needed!

–––Trusted by over 3 million users–––

LOVED BY CRITICS & USERS
The NY Times says "the high-end crowd swears by it". National Geographic chose it as 1 of 8 "must-have travel apps". Forbes hails ProCamera as an app that "provides nearly any camera feature you could need".

–––Main Features–––


vividHDR (In-App Purchase)
vividHDR, the world's best HDR on iOS, enables you to take stunning photos with natural colors and more details in highlights and shadows. A sophisticated Scene Analysis automatically determines the best exposure settings for you, so you can focus on the shot. Even capture moving objects without ghosting. No tripod needed.

LOWLIGHT PLUS (In-App Purchase)
With our technology partner Ittiam Systems, creators of vividHDR, we proudly usher in a new era of mobile low light photography. Capture stunning photos in low light with minimal noise, or use the long exposure feature to make your night shots truly come to life.

GREATER CAMERA CONTROL
The independent Focus and Exposure points allow fast and intuitive control in photo and video modes. Or set the exposure value (EV) swiftly with the swipe of a finger.

PRO CONTROL WHEN NEEDED
Your phone now has the same level of control as an advanced DSLR camera: Set specific values for exposure time, ISO sensitivity and white balance (color temperature & tint). In Priority Mode, either dial in preferred shutter speed or ISO value, and ProCamera does the rest. Manually focus with easy swipe control.

HD & 4K VIDEO
Our frame rates range from cinematic 24 fps to thrilling 240 fps for stunning slow-mo videos. Record in UHD (4K) resolution (iPhone 6s and above).


SPECIAL CAMERA MODES

In LowLight mode, you can set long shutter speeds up to 1 second (iPhone 4S/5) for bright photos in dim light. Use our special Selfie mode for crisp selfies – even at night.

SQUARE & WIDESCREEN
Broad range of capture formats (4:3, 3:2, 16:9, 1:1, 3:1, Golden Ratio, 5:4) use maximum screen real estate for accurate composition.


PHOTO EDITING WITH 80 FILTERS AND MANY TOOLS
Seamlessly swipe between aesthetically pleasing out-of-the-box filters and adjust their intensity. You also get a large set of professional editing tools to refine, adjust and crop your photos.

FULL RESOLUTION PHOTO PREVIEW & METADATA VIEWER
It not only provides a photo viewer that lets you see every pixel of your photos, but also allows you to zoom into sub-pixel level to inspect your masterpieces in great detail.

SHARE OPTIONS
Optionally REMOVE GEO-TAGS and RESIZE PHOTOS/VIDEOS before sharing to social media or sending them via iMessage, Mail etc.

APPLE WATCH
Remotely control ProCamera on your iPhone.

ProCamera also offers: 
RAW (DNG), RAW+JPG, TIFF, RAPID FIRE MODE, ANTI SHAKE, AIS Image Stabilization ON/OFF, 3D TILTMETER, ADJUSTABLE FILL-LIGHT, SELFIE-FLASH, SELF TIMER and INTERVALOMETER, FAST STARTUP SPEED, VOLUME TRIGGER, HISTOGRAM, DIGITAL ZOOM, optional Adobe CREATIVE CLOUD connection, HAPTIC FEEDBACK, distraction free FULLSCREEN MODE, GRAY CARD CALIBRATION, SLOW-MOTION video player, dedicated LIGHTBOX, MANUAL, CODE SCANNER, EXIF/VideoMetaData Viewer, PHOTO COMPASS, and much more.

Join the ProCamera community. Visit our blog for tutorials and to get up to speed on the latest iphone photography news. Tag photos with #procamera in Instagram for a chance to be featured. Contact us via 'customer service' within the app or drop us an email for suggestions. We value your feedback.