Get inspired and motivated to become more active with an enthusiastic community
PumpUp - Health & Fitness Community
by PumpUp Inc.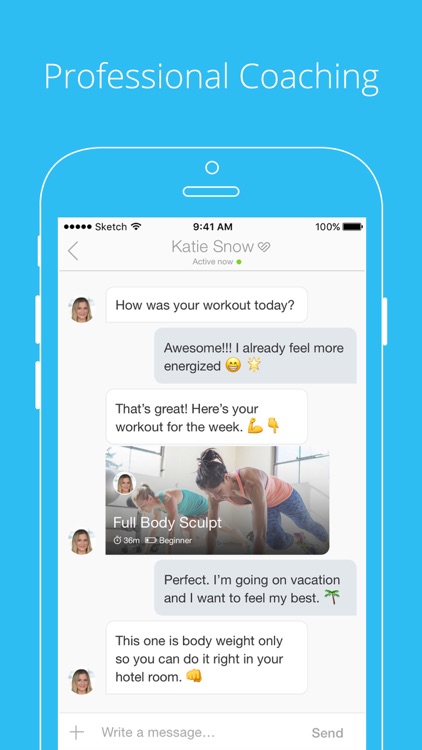 FREE

in the App Store
PumpUp is a community of health and fitness enthusiasts. It will help you get inspired and motivate you to become more active and healthy.
What is it about?
PumpUp is a fun way to get motivated to keep fit with your iPad or iPhone. This app combines a little bit of everything to help you stay on track. Share photos with other PumpUp members, follow a workout customized to your fitness goals/needs, log any activity you'd like to track, and track your progress towards your weight goal. It's a fantastic app for just helping motivate you on your journey towards a healthy body and mind.
For those who...
Prefer having social motivation and even inspiration
Enjoy advice on health and fitness from others who know what they're talking about
Not for those who...
Don't care to get inspired by or motivated from strangers
Are anti-social
Why we love it
PumpUp features a simplistic and easy to use interface that will help you get on the right track quickly. After all, nothing is more inspiring than being around others who have the same goals and aspirations as you.
PumpUp is FREE but there are more add-ons
$4.99

PumpUp Pro: 1 Month Subscription

$29.99

PumpUp Pro: 1 Year Subscription

$49.99

PumpUp Pro: Lifetime Subscription

$35.99

PumpUp

$5.99

PumpUp

$9.99

PumpUp
App Store Description
Achieve and celebrate your health goals with the world's most positive community!

PumpUp is a safe and supportive space to share your journey toward a healthy body and healthy mind.
From sharing your challenges & triumphs, to tracking your fitness, to hiring a Certified Coach, PumpUp has you covered. With millions of like-minded people cheering you on, it's never been easier to become the best version of you!

Join over 5 million people who have downloaded PumpUp!

SHARE YOUR JOURNEY & STAY MOTIVATED
PumpUp is the most positive community on the Internet. With millions of members from over 150 countries cheering you on, any goal is possible. Start sharing your journey and in no time you'll have a 24/7 support group that's always there to keep you motivated!

GET HEALTHY & ACTIVE
Whether it's workouts, weight, or activities, PumpUp has the tools you need to lead a healthy life. Discover the best workout routines created by members of the community, and get guided through your workout with video demonstrations and voice prompts for over 700 exercises.

HIRE A PUMPUP CERTIFIED COACH
PumpUp Certified Coaching matches you with a world-class, online personal trainer who will provide you with a comprehensive fitness plan, daily check-ins, and personalized fitness coaching. Receive mentorship and accountability from your PumpUp Certified Coach so you can reach your goals – all at an affordable price.

FIND THE PERFECT ROLE MODEL
From Olympic athletes, to personal trainers, to certified nutritionists, to people just like you, there's someone for everyone to look up to. You'll be sure to discover knowledgeable people who will give you advice, tips, workouts, and encouragement along your fitness journey!

Join millions of positive people in the PumpUp community and take your fitness to the next level!