* Over 20 million sound downloads
Rain Sounds HQ: Natural raining sounds, thunderstorms, & rainy ambiance to help relax, aid sleep & focus
by Phase4 Mobile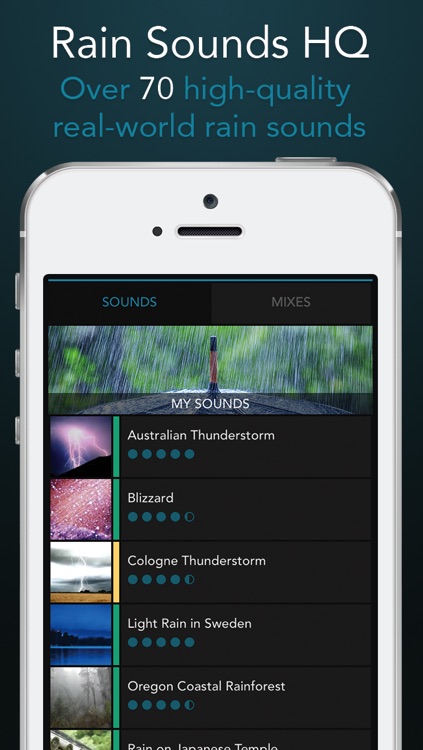 FREE

in the App Store
Relax to the sound of rain and thunderstorms with this utility app. Rain Sounds HQ is a great option for anyone looking to create a relaxing environment.
What is it about?
* Over 20 million sound downloads! *
Why we love it
If you enjoy the sound of falling rain, stop what you're doing and download this app. The selection of sounds is vast and beautiful. You also don't have to store all of them on your iDevice at once. Each can be downloaded separately to save space.
App Store Description
* Over 20 million sound downloads! *

Enjoy over 70 authentic live-recorded rain sounds from around the world.

Rain Sounds HQ provides a beautiful library of high-resolution stereo rain recordings, individually selected for their quality.

Relax listening to gentle showers and rolling thunderstorms in the world's forests, countryside, and cities. Listen to the quiet drumming of rain on tents, umbrellas, roofs, temples, skylights and more.

You can also blend up to 6 different sounds to create your perfect rain mix.

Relax, improve your productivity or just gently fall asleep to the soothing sound of rain.

Rain Sounds HQ features:

• Over 70 natural sounds recorded on location around the world
• Long high-quality stereo recordings
• Beautiful high-definition images from around the globe
• New bonus sounds added each month
• Modern easy-to-use interface, tailored for nighttime use
• Sleep timer with slow audio fade-out, settable with a simple tap
• Easy-to-create blended mixes of any 6 sounds
• Runs in background while using other apps or when the screen is locked
• Mixes with other sound apps such as Music or Audiobooks

Download Rain Sounds HQ now.


Image credits: http://www.rainsoundsapp.com/image-credits/