Shield is the most intelligent porn blocker that runs in your Safari Browser
Shield – Parental Control
by Jonathan Arnold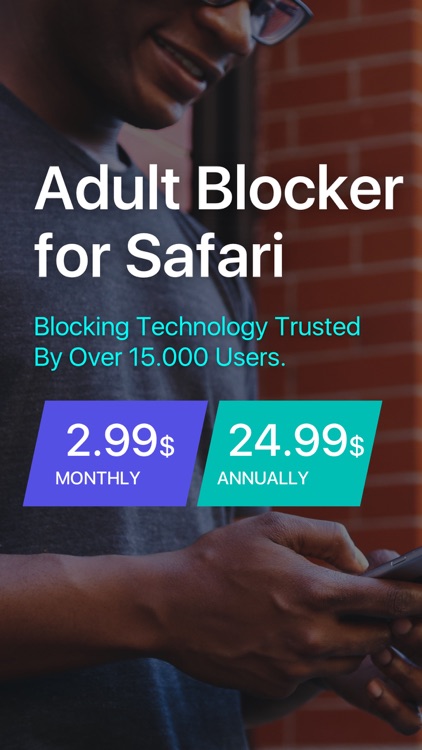 FREE

in the App Store
Shield protects you and your family from adult content on the web by blocking not only pornography sites, but also sites that may contain inappropriate images, such as Tumbler, Flickr and Reddit.
What is it about?
Working seamlessly with Safari, Shield uses intelligent technology to block pornography and other adult content from your devices. While potential sources for porn such as tumblr, flickr, Reddit are blocked by default, they can be allowed in the settings. The app also has a blacklist that allows you to add in specific websites to block.
Why we love it
Shield does a great job in blocking all forms of inappropriate content from ever reaching your device.
Shield is FREE but there are more add-ons
$2.99

Monthly Subscribtion

$24.99

Annual Porn Blocking
App Store Description
Shield is the most intelligent adult content blocker for Safari. Its technology is used by over 15.000 satisfied customers in the "xBlock" App.

IMPORTANT NOTICE
• You need to subscribed to a monthly (2.99$) or annual (24.99$) auto renewing subscription to use the app.
• Subscription can't be shared with family sharing. You need to use the same apple id to share the subscription.

SEAMLESSLY INTEGRATED
Shield is a plugin for Safari. No other browser needed. Please delete other browsers or apps that makes porn content accessible.

PASSCODE PROTECTION
Keeps you or others from disabling or deleting Shield with a passcode using the restrictions of your device. Let your accountability partner setup a passcode for you.

EXPLICIT IMAGES HIDDEN
Pornographic and explicit images are blocked, also using search engines. Other potential sources for porn such as tumblr, flickr, Reddit are blocked by default.

PERFECT FOR FAMILIES
Let your loved ones browse the web with confidence. Install Shield on all of your device that share the same apple id and let the blocker protect them.

BLACKLIST AND SUPPORT
Add additional websites to a blacklist within Restrictions or contact our support team when you find explicit content: [email protected]
We love to help you!

REQUIREMENTS
The app requires devices with a 64-bit processor.

http://shield-app.com
https://twitter.com/shield_app

SUBSCRIPTIONS & TERMS
The usage of the Shield app requires a valid subscription. You can decide between a monthly (2.99$) or an annual (24.99$) subscription.
All subscriptions automatically renew if it is not cancelled within 24 hours before the end of the current subscription period. Your account will be charged for the next subscription period up to 24 hours prior to the current subscription expiring. It is not possible to cancel an existing in-app subscription. You can disable the automatic renewal function at any time by adjusting your account settings.

Privacy Policy and Terms of Use: www.shield-app.com/terms