Description:
Sign & Fill - Documents, Forms, PDF
by Whizpool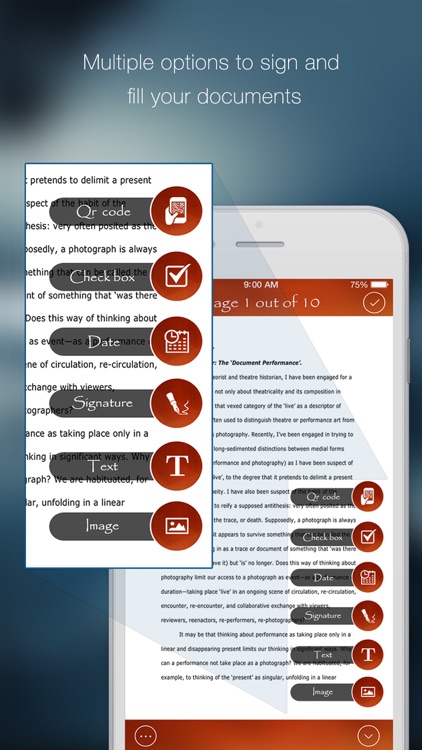 What is it about?
Description:
App Store Description
Description:

Sign & Fill provides a simple and secure way to electronically sign & fill documents using your phone or iPad. Save your time and money by eliminating scanning, faxing and shipping for paperwork. It helps you do your business faster. It enables you complete and send your paperwork right away. Sign documents anywhere or get anyone's signature.
By using Sing & Fill you can easily sign the documents such as purchase orders, sales invoices NDAs, real estate contracts, lease agreements, loan and expense documents and reports, financial agreements, employment contracts, job offers, work orders and almost anything.

1. IMPORT
Import a document from Dropbox, OneDrive, Google Drive, iTunes Share, URL and with "Open In" functionality.

2. EXPORT
Export documents to use in other apps and Save a document in Dropbox, OneDrive, Google Drive, iTunes Share, URL.

3. SIGN
Sign with your finger and fill the document with initials, date, text, images, Qr Code and more.

4. SEND
Email the final document to anyone or save a copy instantly to Dropbox, OneDrive and Google Drive.

5. PRINT
You can print your document too.

Features:

1. Sign any document for FREE; no pen or paper required
2. Upload any PDF document from your iPhone or iPad's Email, Dropbox, and more.
3. Sign realistically with your finger. People won't even know your signature was electronic.
4. Email the signed document to anyone, or save the document to any OneDrive, GoogleDrive, Dropbox and more.
5. Multiple signers: get signatures from multiple persons in one room
6. Insert your signature, initials or text
7. Insert images (signature, logos, ID card)
8. Mark checkboxes
9. Add Qr Code
10. You can print your document
11. Select from many ink colors, text styles and international date formats
12. Access recently typed text to fill forms faster and less typing

The difference from Lite version
1. Ads Free.
2. Save signature: Users can save there signatures.
3. Documents loaded without any delay.