The augmented reality app for viewing the night sky
Sky Guide AR
by Fifth Star Labs LLC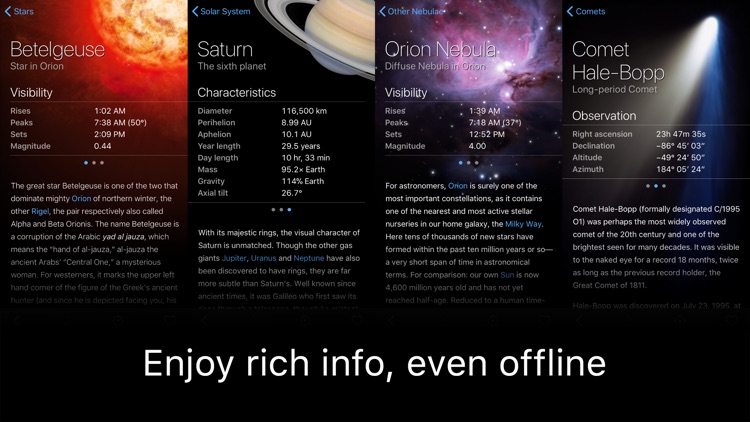 $2.99

in the App Store
When learning about the stars and planets, you need an app that really guides you through the cosmos. With the help of ARKit, that's exactly what this one does.
What is it about?
With Sky Guide: View Stars Night or Day, identifying those bright stars in the sky is simple. The app provides details on stars, planets, constellations, and other celestial bodies.
For those who...
Enjoy learning about astronomy
Are fascinated with the cosmos
Not for those who...
Are not interested in astronomy
Prefer their current astronomy app
Why we love it
One of my favorite features of Sky Guide AR, other than the augmented reality functionality, is the educational content in the Supermassive update. You get several videos that help you learn more about the cosmos, with stunning visuals and wonderful, detailed information about the universe. The app also does a great job of setting the mood for stargazing, with gorgeous ambient music that has a real feeling of calm, serene space exploration.
App Details
Last updated
November 2, 2017
Sky Guide AR is $2.99 but there are more add-ons
App Store Description
A star app has never been more beautiful and easy to use. Just hold it to the sky to automatically find constellations, planets, satellites and more. It's stargazing fun for all ages and experience levels!

Is it a star or the planet Mars? Knowing what's up in your night sky is now effortless with Sky Guide. Hold your iPhone or iPad up and Sky Guide automatically aligns itself to the stars above you—no setup required!

Have you ever wished you could recognize the constellations but didn't want to study those paper star charts? Sky Guide's interactive experience makes learning your way around the sky intuitive and fun.

Whether you're in search of the constellation Virgo, the Andromeda Galaxy or the next big meteor shower, Sky Guide is jam-packed with information and rich graphics that will satisfy the most curious minds.

Voyage to the past or future with cinematic time controls. Know where the Moon will be later in the evening so you can capture that perfect photo. See what the sky looked like the moment you were born or be an eyewitness to history's greatest comets.

It's a star! It's a plane! No, it's a satellite! Sky Guide features hundreds of bright satellites for you to identify and track. You can also receive notifications whenever the International Space Station flies over your location.

Use Sky Guide anywhere—on your evening dog walk, camping trips or in the classroom. Sky Guide works with or without Wi-Fi, cellular service or GPS, so everything is at your fingertips no matter where you go.

Additional Features:

- Apple Watch: Sky Guide can send you a notification when an event is about to happen in the skies above your location, like when the International Space Station is due to fly over. You can also keep tabs on the latest solar activity or add our super-accurate Moon Complication to your Apple Watch face.

- 3D Touch: Peek and Pop previews of articles from Search. Quick actions from home screen app icon.

- Notification Center Widget: At-a-glance essentials including rise and set times for the Sun, Moon and planets.

- Filter: X-ray the sky and explore invisible wonders (now enhanced with 3D Touch).

- Red night mode: Preserve your dark-adapted eyesight.

- Huge stellar catalog: 2.5 million stars!

Optional Features:

- Sky Guide SUPERMASSIVE. This extensive add-on gives you access to incredible high definition zooming, 50× larger star and deep sky catalogs, and exclusive cinematic tours. SUPERMASSIVE includes a free two-week trial followed by an auto-renewing annual subscription. (See In-App Purchases section for the price available in your country. Payment will be charged to your iTunes account, and your account will be charged for renewal 24 hours prior to the end of the current period. Auto-renewal may be turned off at any time by going to your account settings after purchase.)

Join the millions who have discovered a more personal connection to the stars with Sky Guide. It might forever change the way you look up.

Privacy policy: https://fifthstarlabs.com/privacy
Terms of use: https://fifthstarlabs.com/terms-of-use