*IMPORTANT* Smirkee requires an iPad 2 (or newer), iPhone 5 (or newer)
Smirkee: Emotion Recognition in a Video Chat
by Cato Solutions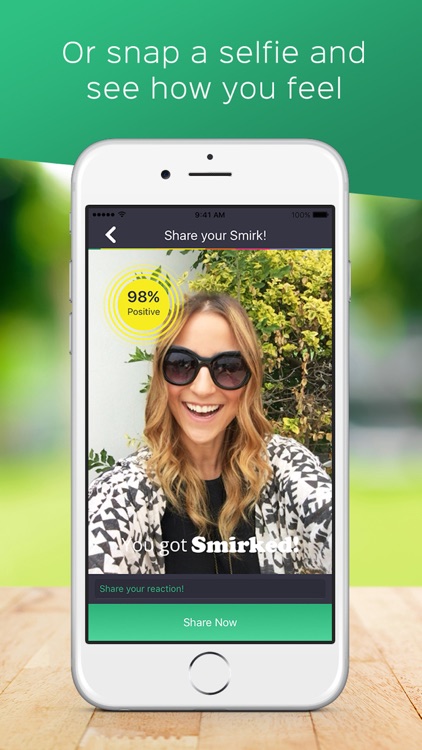 What is it about?
*IMPORTANT* Smirkee requires an iPad 2 (or newer), iPhone 5 (or newer)
Smirkee is $2.99 but there are more add-ons
App Store Description
*IMPORTANT* Smirkee requires an iPad 2 (or newer), iPhone 5 (or newer)
Smirkee is a video chat app that ID's peoples emotions in real time! It records the video call to your phone showing your emotions as you speak. Watch the emotions fly in real time on the screen!
You can take selfies of you and others with the emotions showing. Then immediately post to social networks.

What if we could get the answer we really want?
"Do you love me?"
"How do I look in this dress?"
"Am I annoying you?"

Now you can accurately interpret the feelings people have on their faces.

Smirkee is an easy-to-use, powerful video chat application that solves the mystery of someone's true emotions when talking with them.

Not only can you tell what emotions a person is feeling, but you can also see the overall mood of the call!
_______________________________________________________

What does Smirkee offer:

VIDEO CHATTING WITH A SMIRKEE TWIST
- Have "emotional" conversations with your friends!
- Detect up to 11 unique human emotions when video chatting!*

SAVE THE SMIRKS YOU RECORDED
- Watch your favourite Smirks again and again with the Smirkee Video Player!
- Play, Pause, Step Forwards and Backwards through a saved Smirk and find the moments when the emotions are at their highest with the powerful Smirkogram!

CAPTURE THE PERFECT SELFIE
- Strike a Joyful pose, show of your Angry face! With Smirk Me, you can capture your most expressive selfies, and save them to your camera roll, or post them to your social networks for your friends to see!

Smirkee can help to show you how your facial expressions are really appearing to other people, expressions that you may not have realized you are displaying.

EARN FREE SMIRKS
- Get free SmirkTime Minutes by sharing our link on your Facebook wall.

BONUS: Get 15 SmirkTime Minutes free upon joining!

MAKE THE EMOTIONAL CONNECTION AND GET SMIRKING ;)

*Capturing emotional data, or "Smirking", requires SmirkTime Minutes, an in app currency which tracks the duration of an emotional call. SmirkTime only decrements when the "Smirk Now" button has been pressed in a video call session with someone. SmirkTime Minutes can be purchased via In App Purchases.