From Nike, adidas, Reebok and PUMA, to lifestyle brands including Vans and adidas Originals - Sun & Sand Sports houses them all
Sun & Sand Sports
by Sun & Sand Sports LLC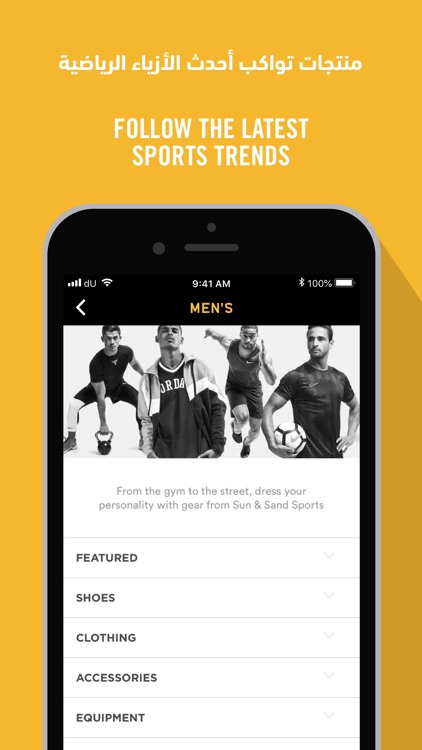 What is it about?
From Nike, adidas, Reebok and PUMA, to lifestyle brands including Vans and adidas Originals - Sun & Sand Sports houses them all. Our brands span a variety of product from apparel to footwear, and equipment - suitable for women, men and kids for all kinds of sports.
App Store Description
From Nike, adidas, Reebok and PUMA, to lifestyle brands including Vans and adidas Originals - Sun & Sand Sports houses them all. Our brands span a variety of product from apparel to footwear, and equipment - suitable for women, men and kids for all kinds of sports.

Got a sport or hobby? We've got the collections to match. From the perfect football shoes for men, to tech leggings for yoga and CrossFit for women, after-school activewear for kids - even fitness accessories for your sport. We narrow your choices down in a few easy steps.
Following a trend? We have the hottest products and looks just in, so you don't need to shop anywhere else. This app shows you brand new trends on a regular basis so there's always something exciting to discover.
Want a fun, shopping experience? We'll help you. On the go or from your own home, you can shop and get your favourite products delivered to your door in just a few clicks with the easy-to-use functions.

Check out the app's unique features:
- Start your Sun & Sand Sports shopping journey, choosing from six categories:
New In, Women, Men, Kids, Brands and Sports collections
- Delve deeper and refine your search with our simple filters
- Sort products by the latest style, brand name or price
- Save items to your basket as you shop for more

Just for you:
- Pay by credit card, or Cash on Delivery (COD)
- Free returns
- Free exchanges

Follow us on:
- Twitter, Instagram and Facebook

Have a question?
- Shake your app! Shake your smartphone side to side and you can give us feedback directly from the app

Privacy Policy
https://en-ae.sssports.com/policies/privacy-policy/


"من نايك واديداس وريبوك وبوما إلى ماركات لايف ستايل مثل فانس واديداس اورجينال، لدى الشمس والرمال للرياضة كل ما تتمناه. تقدم الماركات لدينا تشكيلة واسعة من ملابس واحذية ومعدات رياضية مناسبة للنساء وللرجال وللاطفال لجميع أنواع الرياضات.

هل لديك رياضة مفضلة أو هواية؟ لدينا التشكيلات المناسبة لك. من احذية كرة القدم للرجال إلى بناطيل ليقنز للنساء بتقنيات مبتكرة لممارسة اليوغا وتمارين القوة للنساء وملابس رياضية للاطفال وحتى اكسسوارات رياضية لجميع الرياضات. نساعدك باختيار ما يناسبك في بضع خطوات بسيطة.
متابع للموضة؟ لدينا أجدد المنتجات وأكثرها عصرية لتجد كل ما تريد لدينا. يوفر لك هذا التطبيق جديد الموضة على الدوام لتكون السبّاق في كل ما هو جديد ومميز.
أتبحث عن تجربة تسوق ممتعة؟ دعنا نساعدك. سواء كنت في المنزل أو في أي مكان آخر، بإمكانك التسوق والحصول على منتجاتك المفضلة لتصلك إلى عتبة بيتك بخطوات بسيطة وسهلة وسريعة.

اكتشف ميزات التطبيق الفريدة:
- ابدأ رحلة التسوق من الشمس والرمال للرياضة باختيارك إحدى الفئات الستة:
جديدنا، للسيدات، للرجال، للصغار، ماركات، رياضات
- احصل على نتائج أدق باختيارك للخيارات المناسبة لك
- اختر المنتجات الأهم لك لتظهر أولًا بحسب الستايل أو اسم الماركة أو السعر
- احفظ المنتجات في سلة التسوق وتابع التبضع

فقط لك
- دفع آمن بواسطة بطاقة الائتمان أو نقدًا عند التسليم
- إرجاع مجاني
- تبديل مجاني

تابعنا على:
- تويتر وإنستجرام وفيسبوك

هل لديك أسئلة؟
- هز التطبيق! هز هاتفك الجوال إلى كلتا الجهتين لترسل لنا رأيك أو استفسارك مباشرة من التطبيق

سياسة الخصوصية
https://ar-sa.sssports.com/policies/privacy-policy"
Disclaimer:
AppAdvice does not own this application and only provides images and links contained in the iTunes Search API, to help our users find the best apps to download. If you are the developer of this app and would like your information removed, please send a request to
[email protected]
and your information will be removed.