Follow Your Team
Team Stream for iPad
by Bleacher Report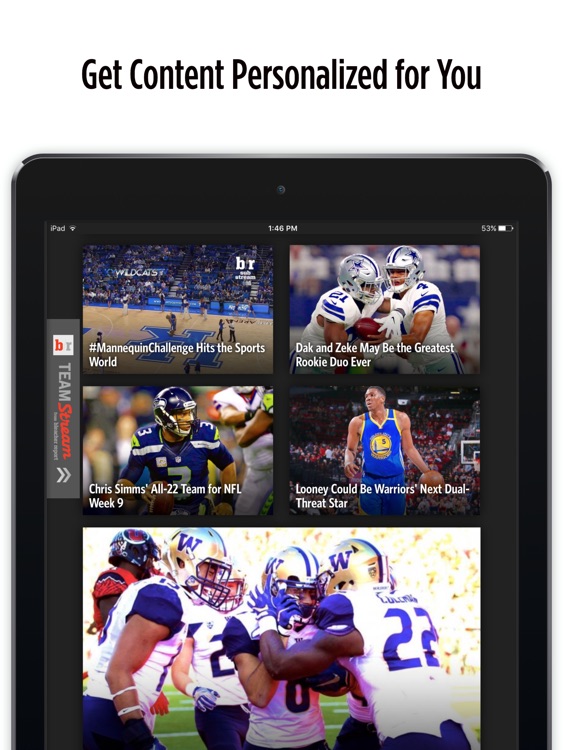 FREE

in the App Store
Get all your team's news and scores in one place with real-time streams and alerts sent as soon as stories break. ​
What is it about?
Pick the teams you love and get real-time, hand-picked notifications so you're always the first to know big news. ​Streams give you scores, stories, and tweets for your teams from local newspapers, websites, blogs, Twitter, and Bleacher Report.
For those who...
Are really big sports fans
Follow specific teams 24/7
Not for those who...
Are tired of ESPN
Rather be watching Netflix
Why we love it
Team Stream offers a unique twist on professional sports.
App Store Description
Your Team's News First! Get all your team's news and scores in one place with real-time streams and alerts sent as soon as stories break. Never miss big news again.

Allow Push Notifications to get your team's news first

• Pick the teams you love and get real-time, hand-picked notifications so you're always the first to know big news.

• Streams give you scores, stories, and tweets for your teams from local newspapers, websites, blogs, Twitter, and Bleacher Report.

See what real fans have said in our 5-star app's reviews:

"This app is great, 9 times out of 10 I get updates from BR before the ESPN app."

"Wow - I'm just blown away by how good this is! The stream is awesome, and the breaking news is dead on. So much better than trying to follow multiple teams on ESPN. NICE JOB FELLAS!"

"SIMPLY THE BEST!!!!! - As soon as I got the app and added my local team, I got breaking news from my team before they broke the news on a local sports talk radio that I listen at work every day. From that moment I fell in love with the app!!! Awesome app, I recommend it to every sports fan!!!!!"

"Great app - Instead of having to go to multiple sites, I get a quick fix on my favorite teams with just this one."

"Awesome! - Best sports app there is! I love the team feature. I used to watch espn daily but now with this app I haven't watched in over two weeks. All the news is fast and to the minute. Bye-bye espn.

"Perfect - Get all your local teams big news in your notification center. How awesome!!!!!"

"Great App!! - This app is very useful for breaking news and interesting tidbits from my teams. Being separated from home sports city makes it tough to get a ton of info on just a couple teams I want to follow, better than twitter only sports related updates."

--

Terms of Use: http://bleacherreport.com/pages/terms

Privacy Policy: http://bleacherreport.com/pages/privacy