"There's a very Pokemon vibe running through Teeny Titans…The game's battles are much more dynamic and exciting than those in Nintendo's series
Teeny Titans - Teen Titans Go! Figure Battles
by Cartoon Network
watch trailer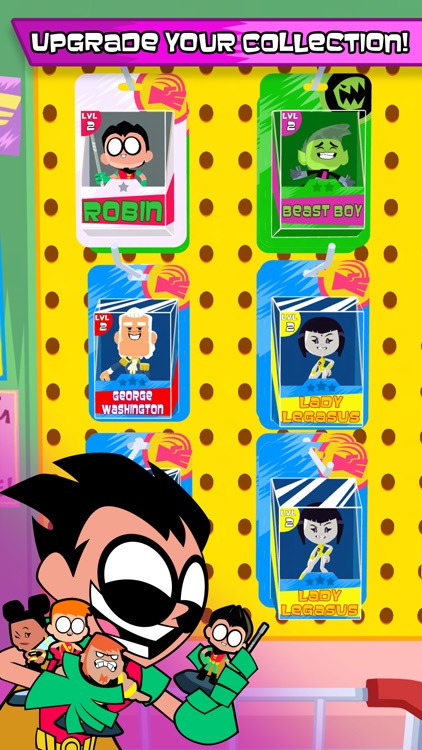 What is it about?
"There's a very Pokemon vibe running through Teeny Titans…The game's battles are much more dynamic and exciting than those in Nintendo's series." - Kotaku
Get Ready, Set Go! Assemble your squad and face off in 3-on-3 battles! Bust out super moves in real time with the battle bar. Switch between your heroes to launch awesome attacks and take down your opponents.
Friends and Foes. Race from store to store to shop for your favorite super hero figures. Complete special missions, enter tournaments, and unlock new areas on your journey to become the Jump City Mega Teeny Champion!
App Store Description
"There's a very Pokemon vibe running through Teeny Titans…The game's battles are much more dynamic and exciting than those in Nintendo's series." - Kotaku

"…this is one of the deepest and most content-rich games available on iOS, and feels like it could easily sell for ten times the price on 3DS or Vita." - TouchArcade

"The game is worth every penny, especially if you enjoy Pokemon and Pocket Mortys." - iPhoneFAQ

"It's about as vibrant and engaging as mobile games get…" - Gamezebo

Teeny Titans, GO! Join Robin for a figure battling RPG of epic proportions. Play for hours with no in-app purchases!

TEENY COMBAT
Assemble your squad and face off in 3-on-3 battles! Bust out super moves in real time with the battle bar. Switch between your heroes to launch awesome attacks and take down your opponents.

77 COLLECTIBLE FIGURES
Gotta snatch 'em all! Collect all 77 Teeny Titans figures, including Harley Quinn, Blue Beetle, Alfred Pennyworth, Kid Flash, the 80s Titans, Batgirl, Silkie, and many more! Level up and combine your figs for even more powerful abilities.

EXPLORE JUMP CITY
Race from store to store to shop for your favorite super hero figures. Complete special missions, enter tournaments, and unlock new areas on your journey to become the Jump City Mega Teeny Champion!

ORIGINAL VO!
Teeny Titans features original voiceover from Robin, Starfire, Cyborg, Raven, and Beast Boy!


*****

This game is available in the following languages: English, French, Italian, Spanish (Latin American), Portuguese (Brazilian), Russian, Turkish, Korean, Japanese

If you're having any problems with this app, feel free to contact us at [email protected] Tell us about the issues you're running into as well as what device and OS version you're using.

*****

IMPORTANT CONSIDERATIONS:
This app may contain ads that feature other products, services, shows or offers from Cartoon Network and our partners.

PRIVACY INFORMATION:
Your privacy is important to us at Cartoon Network, a division of Turner Broadcasting System, Inc. This game collects and uses information as described in Cartoon Network's Privacy Policy linked below. This information may be used, for example, to respond to user requests; enable users to take advantage of certain features and services; personalize content; serve advertising; perform network communications; manage and improve our products and services; and perform other internal operations of Cartoon Network web sites or online services. Our privacy practices are guided by data privacy laws in the United States. For users residing in the EU or other countries outside the U.S., please note that this app may use persistent identifiers for game management purposes. By downloading this application, you accept our Privacy Policy and End User License Agreement, and you give permission for such uses for all users of your device. The Privacy Policy and End User License Agreement are in addition to any terms, conditions or policies imposed by your wireless carrier and Apple, Inc. Cartoon Network and its affiliates are not responsible for any collection, use, or disclosure of your personal information by Apple or your wireless carrier.

Terms of Use: http://www.cartoonnetwork.com/legal/termsofuse.html
Privacy Policy: http://www.cartoonnetwork.com/legal/privacy/mobile.html