Art meets math.
Trimaginator ▲ Creative Photo Effects!
by Paul Ollivier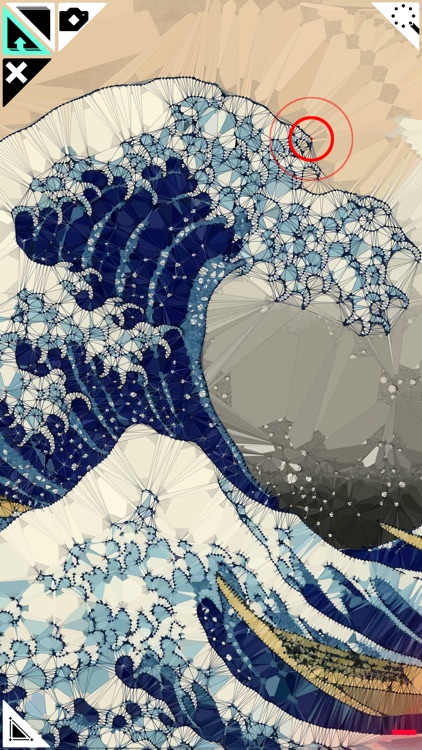 Watch the transformation. Tap on your photo to add mesh points, and watch as it all transforms.
What is it about?
Trimaginator allows you to unleash your creativity and transform your photos into unique Works of Art!
For those who...
It's a photography app for the mathematical minds.
Not for those who...
The UI can be a bit confusing, making it difficult to achieve the same results time after time.
Why we love it
If you want your photos to stand out, Trimaginator will make it happen. To get started, try the randomizer. It'll give you an idea of what to expect.
Trimaginator ▲ Creative Photo Effects! is $1.99 but there are more add-ons
App Store Description
Trimaginator allows you to unleash your creativity and transform your photos into unique Works of Art!


▲ Winner of the Platinum Award for "Best Entertainment App", Best Mobile App Awards - Summer 2015


*** Also available on the OS X App Store for super fast image processing!!! ***


Trimaginator is inspired by the triangulation invented by the mathematician Boris Delaunay in 1934. The image is reduced to its essentials and turned into a triangle mesh: think cubism, think surreal geometric landscapes, think turning your face into a logo, or your cat's face, or well, anything that has or doesn't have a face.

Trimaginator goes way beyond the simple triangulation to provide you with a unique blend of creative geometric and style controls.

Professional artists and graphic designers can export the vectors from Trimaginator to use with Adobe Illustrator™, Adobe Photoshop™, or any compatible software.


USAGE

After selecting an image, open the top right drawer and tap on a point generator to instantly turn your picture into a triangle mesh, then tweak the result with your fingers by adding [ + ] or removing [ − ] points, or start drawing points from scratch [ × ] if you're feeling wild!

Icing on the cake, you can modify the general look of your composition [ bottom left panel ] and still be able to change the geometry [ top right panel, + / - manual point editing ]. How cool is that?


So what are you waiting for? Just play around and see what you can come up with!


FEATURES

• Various geometry generators ranging from high-quality shape recognition to abstract composition algorithms

• Tons of rendering styles that change the look of your triangles, including rounded triangles, circles, gradient fills!

• Manual point editing

• Image zoom and pan gestures

• PDF vector export

· Import any picture from your library
· Take a new photo from within the app
· Draw, erase, toggle intersection points
· Zoom, pan image for accurate point manipulation
· Easily change point generator settings by taping repeatedly on their icons
· Point density modifier
· Rendering style modifiers : blending and outlines
· Save image in original resolution
· Export vectors
· Share with Instagram, Facebook, Twitter, Weibo and more!
· Portrait and landscape modes are supported


I ▲ TRIMAGINATOR

If you want Trimaginator regularly improved and updated, please help its independent development by leaving a positive rating or review.

Also I can't reply to App Store reviews so if you find a bug or have a feature request, please use the in-app support email instead, I'll be happy to answer!


COMMUNITY

Join @trimaginator on Facebook, Instagram, Twitter, Flickr, Pinterest and Tumblr!


www.trimaginator.com


CREDITS

Video demo music : "Virevolte" taken from Yul - Kraklet EP (Pikimup Records)
Facebook: @Yullamoule