Uberchord takes guitar learning to the next level
Uberchord — Learn Guitar. Chords, Songs, Lessons.
by Uberchord Engineering GmbH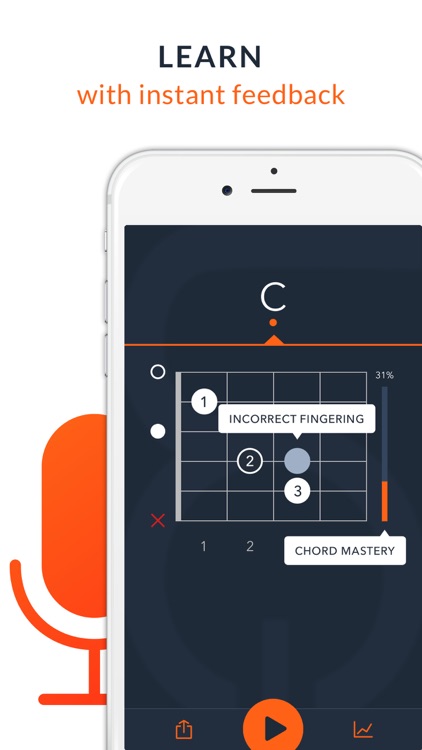 What is it about?
Uberchord listens to what you lay, offers instant feedback, and gives visual feedback on your finger technique for corrections. The app provides a learning path, song trainer, and a rhythm and strumming trainer. With a monthly subscription, you can receive premium content for learning paths with popular songs.
Why we love it
When you are ready to learn guitar, Uberchord is ready to listen. Get feedback on what you play and how you play it, in real time.
App Details
Last updated
August 18, 2017
Release date
April 14, 2015
Uberchord — Learn Guitar is FREE but there are more add-ons
$9.99

Essentials

$79.99

Essentials
App Store Description
Uberchord takes guitar learning to the next level. Chords, Rhythm, Songs - all with a real instrument in your hand. Uberchord listens and adapts to you while teaching you how to play.

Ever wanted to really play guitar instead of pushing buttons? Now you can.

USER VOICES:

"I have just one complaint: This is so mind blowingly addictive, I have BLISTERS ON MY FINGERS!!"

"I have been playing for 30 years and teach part time, I can say anyone looking to learn to play and only apply yourself with this app it will work and make a great player - anybody can do it!"

"This app is such a great practice tool. I really practice longer and push myself harder. Helps me to figure out correct hand placement. I love this app!!"

KEY FEATURES
• Patent pending technology: Uberchord listens to what you play in real-time
• Interactive and adaptive: practice with instant feedback at your own pace
• Finger Correction: get visual feedback on your fingering

NEW! SONG CATALOG WITH 100 GREAT TITLES (with Premium Plan)
• Ed Sheeran - Runaway (free)
• One Republic - Counting Stars (free)
• House Of The Risin' Sun
• Coldplay - Yellow
• Bastille - Pompeii
• Bryan Adams - Summer of '69
• Mumford & Sons - Believe
• 3 Doors Down - Be Like That
• ... 100 Songs for the launch and new Songs every week!

THE LEARNING PATH (one free course included)
• Handcrafted courses with popular songs
• Teaches you all the necessary techniques and prepares you for playing songs
• Earn picks for each completed exercises to unlock the next level
• Weekly new content

SONG TRAINER
• Learn to play popular songs step-by-step
• Start with chord progressions, then move on to strumming and lyrics
• Learn the parts of each song separately until you are ready for the full song
• Get into the groove with professionally produced MIDI backing tracks

RHYTHM AND STRUMMING TRAINER
• Completely new approach to rhythm training
• Learn complex strumming patterns, slowly step-by-step
• Improve timing and rhythm by getting visual real-time feedback

GREAT PREMIUM CONTENT
We offer a premium subscription. The "Essential Plan" is $9.99 per month or $79.99 per year and includes
• Unlimited access to all of our learning content
• A song catalog with courses for over 100 popular songs
• One week free trial

These prices are for US. Pricing in other countries may vary.

Your Uberchord Premium subscription will begin at the end of the trial period and automatically renew at the end of each term and your credit card will be charged through your iTunes account. You can turn off auto-renew at any time from your iTunes account settings but refunds will not be provided for the unused portion of the term.

TRAINER: DAILY WORKOUT
• Personalized chord workout based on your weaknesses (auto-composed exercises)
• Track your daily practice time and achieved experience points
• Set your personal goals and get daily reminders to achieve them

EDITOR: WRITE CHORD PROGRESSIONS
• Song Editor: Create your own exercises with chords as easy as drag and drop
• Chord Dictation: Record chords by playing them on your guitar one at a time
• Share your creations with your friends or students

CHORD FINDER
• Chord Recognizer: Identify any chord you play and get its name, tones and tensions

HIGH PRECISION TUNER
• Professional tuner: extremely precise, fast and stable
• Keep your guitar in tune for best training experience
• 19 tunings available for free

--------------------------------------------------------------

WORKS WITH ANY STANDARD GUITAR
• Uberchord works with acoustic and electric guitars.
• For electric guitars you need an amplifier or a cable connection (for example iRig, Apogee, Line6)

REQUIRES AN iOS DEVICE RUNNING iOS 8 OR NEWER

NEED HELP OR HAVE QUESTIONS?
support@uberchord.com

LEARN MORE ABOUT UBERCHORD
http://www.uberchord.com
Facebook: facebook.com/uberchord

Privacy Policy: www.uberchord.com/privacy-policy
Terms of Service: www.uberchord.com/terms-of-use