Chat and call freely.
Viber: Free Calling & Texting
by Viber Media SARL.
watch trailer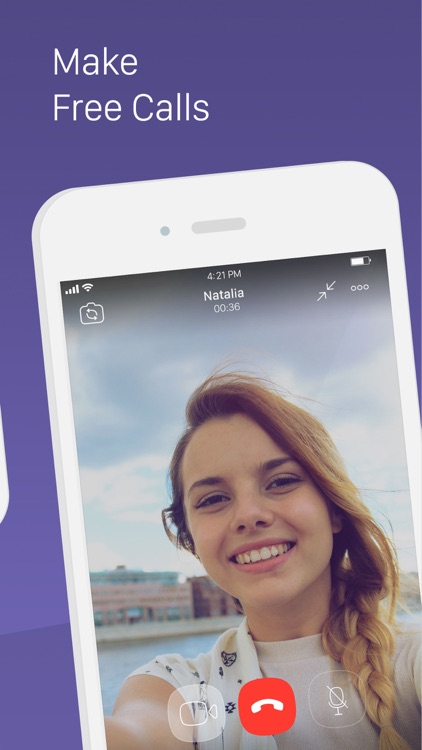 FREE

in the App Store
Want a fun and funky app for messaging and calling your family and friends? Look no further than Viber. The app has become so popular than it now boasts a user base of more than 664 million around the world.
Free chats. Send messages, photos, links, and stickers to your friends. Viber lets you have one-on-one conversations and group chats with up to a whopping 200 people.
Free calls. You can call your Viber friends for free. If you want to make calls to non-Viber mobile and landline numbers, there's Viber Out, which requires credits at low rates.
3D Touch. On your 3D Touch-compatible device, you can press on Viber's app icon on the home screen to quickly start a new chat or access your most recent chats.
What is it about?
With Viber, you can easily chat and call your family and friends up for free over Wi-Fi or cellular. Exchange private messages or set up group chats for sharing photos, videos, links, and stickers. No registration required: Just enter and validate your phone number and you're good to go.
For those who...
Want a fun app for messaging and calling
Want a built-in option for calling non-registered mobile and landline numbers
Not for those who...
Are already content with their favorite messaging apps
Do not like extras like public chats
Why we love it
Essentially, Viber functions quite similarly to other messaging apps. But it does have several distinctive features. These include Viber Out (which let you call non-Viber mobile and landline numbers for a free), Public Chats (which let you follow real-time conversations with brands and celebrities), and Viber Games (which let you play casual games featuring Viber characters).
Viber: Free Calling & Texting supports Siri commands
Make
a
Viber
video
call
to
John
Message John on Viber
Call John with Viber
Make a Viber video call to John
Viber: Free Calling & Texting is FREE but there are more add-ons
$0.99

Viber credit pack

$4.99

Viber credit pack

$9.99

Viber credit pack

$1.99

Love Is All You Need

$0.99

30-day plan to USA

$1.99

Minions Movie Sticker Pack

$1.99

Despicable Me Sticker Pack

$1.99

Long Distance Love

$1.99

Mickey Mouse Sticker Pack

$1.99

Young Love Sticker Pack
App Store Description
Connect freely with over 900M users worldwide!
Viber is a free messaging and calling app that keeps you connected to anyone in the world through your Internet connection*. It's the most expressive way to keep in touch with your loved ones and connect with anyone worldwide!
Choose a contact from your phone book or simply enter a phone number to add a new contact on Viber. Make audio or video calls, text, share photos and videos, express yourself with thousands of stickers to choose from, record audio messages and even send files.
● Group chat - Create groups with up to 250 participants and "like" messages when you don't have time to reply
● Hassle-free, long-distance calls - Free international calling without having to set up a username or provide login information
● Voice or video - When voice isn't enough, turn the video on! Enjoy the same HD-quality sound while having a face-to-face
● Instant video messages - Tap and hold the instant video icon to capture the moment with 30-second videos, release to send.
● Secured communications and trusted contacts - All messages and calls are protected by end-to-end encryption. Manually authenticate contacts to be sure you're talking to the right person
● Express yourself with stickers - Choose from a selection of thousands of stickers to say exactly what you mean
● "Damage control" - Delete messages you regret sending
● Hidden chats - Hide the chats you don't want to be visible in your chat list and access them later with a PIN
● Public Accounts - Chat with your favorite brands, businesses and personalities. Follow them for news and updates; subscribe to get direct messages
● And much, much more - games, share contacts and location, see message information including who has seen and liked your messages

Install and start connecting now!
Follow Viber to see what's up:
Viber - www.viber.com/viber
Facebook - http://facebook.com/viber
Twitter - http://twitter.com/viber

(*) Viber uses your Internet connection. Wi-Fi is suggested for the best experience. Data charges may apply where you are connected through your network data plan.

Viber is part of the Rakuten Group, a world leader in e-commerce and financial services.