in top
250
of all
categories
SLIM DOWN IN 8 WEEKS
Weight Loss RUNNING
by GRINASYS CORP.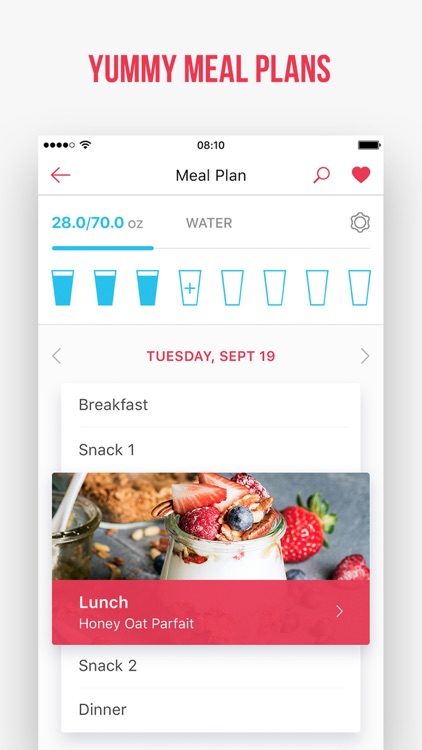 FREE

in the App Store
Lose weight and feel great in as little as eight weeks with Running for Weight Loss.
What is it about?
Running for Weight Loss: workout & meal plans is a great running app created especially for weight loss. The app includes training plans to burn the maximum amount of calories. In addition, you can get and stay motivated with over 1,000 music mixes, get voice encouragement during your activities, and keep a record of your workouts with progress tracking.
For those who...
It's the ideal fitness app for those who have trouble sticking with their running training plans.
Not for those who...
The app can be a little obnoxious with its reward point system and cross promotional apps.
Why we love it
If you run to lose weight, Running for Weight Loss is the app for you.
Weight Loss RUNNING is FREE but there are more add-ons
$9.99

Premium Membership

$11.99

Premium membership: training & meal plans, music

$8.99

Premium Membership

$9.99

Premium membership: training & meal plans, music

$39.99

Premium Membership

$4.99

Remove ads

$39.99

Premium membership: training & meal plans, music

$19.99

Premium membership: training & meal plans, music

$49.99

Premium Membership

$59.99

Premium Membership
App Store Description
SLIM DOWN IN 8 WEEKS.
The first running app on the App Store designed specially for weight loss.
Make your running serve your goals!

COMPLEX APPROACH
The key to effective and resistant weight loss lies in the right combination of an exercise and healthy eating. With our app you'll get a plan of short interval running workouts and meal plans with yummy healthy recipes to achieve your weight loss goals.

TRAINING PLANS
Burn maximum of calories with unique interval plans of running, walking and sprint intervals.
- Choose the best suitable plan based on your goals, level and physical condition;
- Have workouts 3 times per week only and get fit fast;
- Make your workouts shorter and get results faster thanks to smart interval training plans;
- Enjoy the variety of unlimited plans to lose weight, maintain results, keep fit and active;
- Free run feature allows to run and keep tracking your results without sticking to any training plan.

NUTRITION
Get specially tailored meal-and-training plans to lose weight fast.
- Enjoy hundreds of yummy recipes with step-by-step instructions;
- Learn what to eat on breakfast, lunch, dinner and between them to make healthy and tasty choices;
- Follow a healthy, nutritionally-balanced meal plan sufficient in vitamins and microelements;
- Use our water tracker with reminders to stay hydrated;
- Meal plan is featured with the shopping list.

MUSIC
Listen to cool workout mixes to increase motivation and improve your results.
- Music tempo adjusts to your workout pace – music speeds up as you run faster;
- 1000+ newest music mixes from various DJs;
- New mixes are added every day.

CONVENIENT TRAINING
All you need is to do your best during a workout, the app will do the rest.
- Choose your personal trainer, from sweet and encouraging to tough and military-style;
- Enjoy detailed audio instructions for every training;
- Get voice encouragements and stats updates during your runs;
- Adjust the amount of audio feedback;
- Keep record of every workout and track your overall progress;
- Mark your mood, weather and take notes about your workout;
- Take pictures during your runs right from the app;
- Synchronize with Apple Health, Fitbit, Runkeeper and MapMyRun.

USEFUL TIPS
Learn hundreds of useful healthy eating, workout and clothing tips, which are regularly updated.

INFO ABOUT USING THE APP AND REGARDING THE SUBSCRIPTION TERMS OF USE AND SUBSCRIPTION DETAILS
The download and usage of Running for Weight Loss app is free of charge. The upgrade to Premium provides access to the variety of training plans and audio coaches, meal plans, running playlists and turns the advertisements off.

Should you choose to upgrade to a Premium Membership, payment will be charged to your iTunes account at confirmation of purchase. Your monthly subscription is $9.99 per month, while the yearly subscription is $39.99 per year (price may vary by location.) Your subscription renews automatically unless cancelled at least 24 hours prior to the end of the current period. Cancellation of the current active subscription period is not allowed.
Auto-renewal may be turned off in your Account Settings in iTunes after purchase. You can also manage your subscriptions in Account Settings after purchase.

Featured in Washington Post, AppleInsider and Huffington Post. Featured by Apple in "Best Apps for Runners," "Get in Shape," "Hit the Ground Running in 2016."

Privacy Policy: http://redrockapps.com/privacy-policy
Terms of Use: http://redrockapps.com/terms-and-conditions-of-use
Note: Continued use of GPS running in the background can dramatically decrease battery life.
This app is developed for informational purposes only. You must always consult your physician or doctor before starting any fitness program.

Follow us!
Facebook: https://www.facebook.com/RedRockApps
Twitter: @RedRockApps
Instagram: @RedRockApps