Find out what your next big activity is with this slick app
WhaToDo - Tours, Travel Activities & Attraction Tickets
by Travel Holdings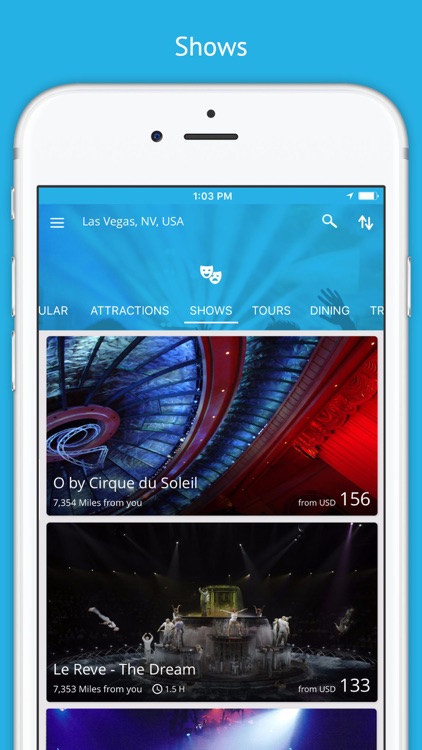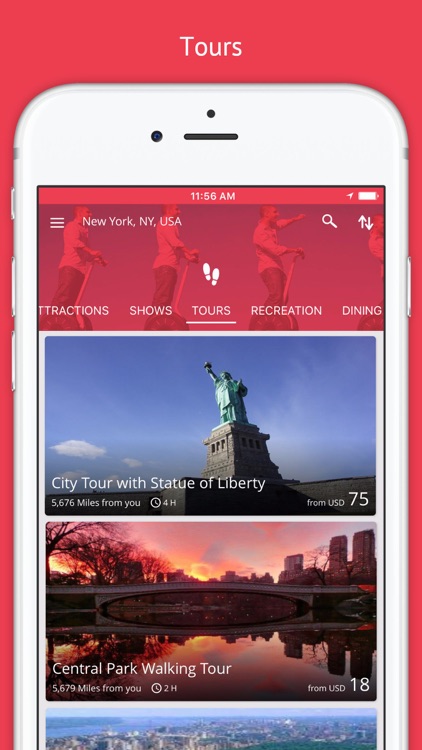 FREE

in the App Store
WhaToDo is a slick app that helps you find your next fun activity. Find tours, travel activities and get tickets to the hottest attractions.
Where to? With the WhaToDo app, you have access to thousands of activities in over 1,000 destinations around the world, helping you to plan a trip quickly and easily​ in advance or think up a spontaneous day of fun.
Concise Information. Find up-to-date ​information on tours, shows, attractions, recreational activity, dining options, and airport transfers within the app.
What is it about?
WhaToDo is a gorgeous and slick new app for helping you find your next activity on your trip. With the app, you can browse through activities by category, and purchase tickets for attractions and tours directly with the app. You can even get airport transfers if you need to, so you're never stranded. And if you're always looking for a bargain, WhaToDo also has their own deals for you to check out and save some pennies.
For those who...
Like to travel and do various activities on their trips
Enjoy exploring and trying new things
Not for those who...
Don't like to travel
Don't like to explore new things
Why we love it
The app has a nice interface and is easy to use. There are deals (who doesn't like to save money?) and you can buy tickets directly. No hassle, no fuss.
App Store Description
DOWNLOAD AND SAVE! Save up to 40% when you book with WhaToDo! Whether you have planned ahead or have not planned at all, having fun AND saving money can all be done without ever setting foot in a line. Just download the app and once you need something to do, start booking! It's THAT easy!
*****
WhaToDo is the best way to book activities and/or airport transfers. The WhaToDo app gives you access to thousands of activities in over 1,000 destinations around the world, helping you to quickly and easily plan a trip in advance or think up a spontaneous day of fun.
Looking for a fancy shmancy dinner cruise down the Seine for your trip to Paris next summer but don't want to break the bank? We can help with that. Going to Vegas and want to catch a show? Or maybe you prefer going to New York and watching a production on Broadway. Either way, we can help with that. Even if you're bored and just can't think of something to do for the day, we can help with that.

Why choose WhaToDo? The better question is why shouldn't you?
Highlights include:

UNBELIEVABLE DEALS
-----------------------------------------------------------------
* Special app-only holiday promotions.
* Whether you plan in advance or want to book the day of, we always have exclusive discounts and big savings.
* Sounds unbelievable? Believe it! We've got some really great deals for you here.

FREE AND EASY TO USE
-----------------------------------------------------------------
* Make phone calls from within the app to any tour, show, attraction, recreational activity, restaurant, or transfer that suits your fancy.
* Avoid waiting in lines! Search for and reserve different types of tours, shows, recreational activities, transfers to/from airports, dining options, and tickets for various attractions within the app.
* Quickly book, search for, and view all reservations you've made without ever leaving the app.
* Organize your search results by: alphabetical order, price or distance from you; the choice is yours.
* Login with Facebook, Google, or your email, creating an account for all of your devices.

USEFUL AND INFORMATIONAL FEATURES
-----------------------------------------------------------------
* See tours, attractions, restaurants, and airports in list-view or on the in-app map.
* Ability to view all details of tours, shows, attractions, recreational activity, dining options, and airport transfers within the app.
* Capability of changing currency options to the US Dollar, the Euro, or the British Pound.
* You are also able to change the distance unit to miles or kilometers!

TRUSTWORTHY
-----------------------------------------------------------------
* We personally manage any and all bookings to ensure that glitches from technology don't stand in the way of your planning (or lack thereof).
* Secure booking process. Your personal information is safe with us.
* Customer service is available to you 24 hours a day, 7 days a week, 365 days a year. We are even available for you on holidays.

Don't know what to do? Now you do!

* Continued use of GPS running in the background can dramatically decrease battery life