New Orleans Haunted Bars- ghost tour of the French Quarter
Wicked Walks - New Orleans Haunted Bars
by Rothrock Group, LLC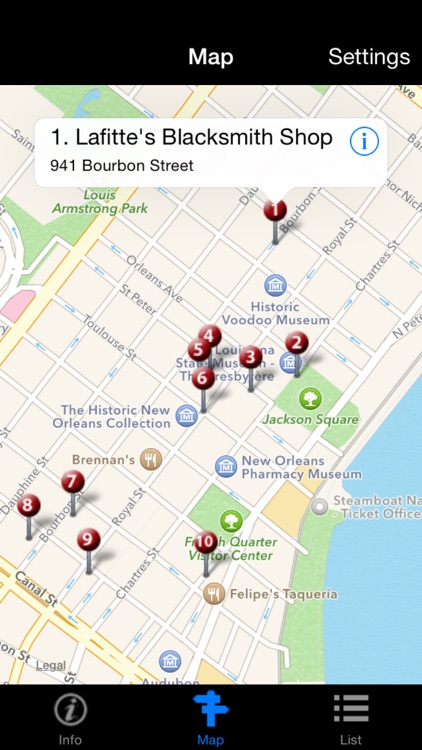 What is it about?
New Orleans Haunted Bars- ghost tour of the French Quarter
App Store Description
New Orleans Haunted Bars- ghost tour of the French Quarter

The Big Easy: famous for its food, jazz, architecture, and... spirits. Spirits, both lethal libations and lingering souls. In this walk, you're invited to experience both.

From the mystical, surreal ambience of Muriel's Seance Lounge to the rustic feel of Lafitte's Blacksmith Shop, you're bound to catch other-worldly vibes sometime during your tour.

The walking tour is approximately one and a half miles long and stops at nine bars. Recommended for adults of legal drinking age. Both locals and tourists will enjoy the haunted history.

Two Buck Tours allow you the flexibility you want:
- Take the tour when you want, with whom you want
- Go at your own pace; Yes, you can stop for a drink
- Too spooked? Rain? Resume the tour later
- Detailed maps and directions guide you to the most haunted sites
- Photos, text and audio narration introduce you to the haunting, often tragic tales

Once the tour is downloaded, it is self-contained on your phone - no internet connection needed. Narrated in English. Tours are historically accurate to the best of our ability... given the subject matter.

Not visiting anytime soon? The narrative and photos will give you a taste of New Orleans.