The best email app to easily organize your Gmail, Outlook (Hotmail), AOL and Yahoo accounts
Yahoo Mail - Keeps You Organized!
by Yahoo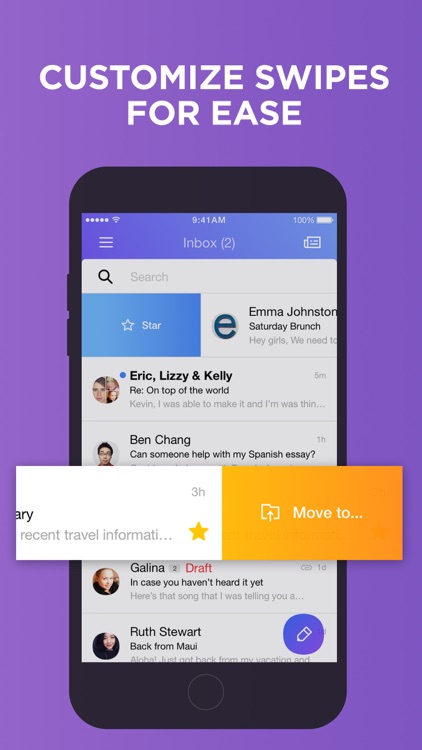 What is it about?
With its beautiful design, easy-to-use interface, and lightning fast speed, the Yahoo Mail app makes reading, organizing, and sending emails across your inboxes (Gmail, Outlook, AOL and more) easier than ever. Yahoo Mail offers 1000GB of free cloud storage, so you never have to delete a message again.
Yahoo Mail is FREE but there are more add-ons
$0.99

Yahoo Mail Pro

$9.99

Yahoo Mail Pro
App Store Description
The best email app to easily organize your Gmail, Outlook (Hotmail), AOL and Yahoo accounts. Regardless of your email address, you can experience the Yahoo Mail app's beautiful design, easy-to-use interface and lightning fast speed. Plus, Yahoo Mail offers 1000 GB of free cloud storage, so you never have to worry about space again.

- SIGN UP WITH ANY ACCOUNT - Works with non-Yahoo email addresses, including Gmail, Outlook and AOL. No Yahoo email address required.

- CUSTOMIZE YOUR SWIPES - Choose different actions like delete, archive, move and more when you swipe left or right on a message.

- GET NOTIFICATIONS FROM PEOPLE ONLY - Get notified only when you receive a new email from a person, not companies or newsletters.

- CALLER ID - Not sure who is calling you? Yahoo Mail can automatically display mail contacts for incoming callers.

- QUICKLY SEARCH - Search across all of your messages, contacts, files and photos, faster than ever.

- GET CREATIVE - Make sure your emails stand out with animated photos and artist-designed stationery from Paperless Post.

- SEND MULTIPLE ATTACHMENTS - Easily add photos, videos, and documents to an email, all at once.

- NEVER LOSE AN EMAIL - Keep all of your emails with 1000 GB of free cloud space.

- CHOOSE A THEME - Select different backgrounds and text colors for your Yahoo inbox.

- DITCH PASSWORDS - Enable Account Key for secure, password-free sign in.

- CONNECT GOOGLE DRIVE AND DROPBOX - Easily access and send photos and documents you've stored in the cloud.

- BE IN THE KNOW - Get breaking news from Yahoo right in the app.

GET YAHOO MAIL PRO on mobile - Get ad-free mail on Yahoo Mail for iOS and priority customer support.
- Available as an in-app purchase at $0.99/month or $9.99/year, charged to your iTunes account
- Subscription will auto-renew each month or year within 24 hours of your renewal date
- Manage or cancel your subscription via Account Settings
- Read our terms of service at https://policies.yahoo.com/us/en/yahoo/terms/product-atos/comms-mailadfree/index.htm and privacy policy at https://policies.yahoo.com/us/en/yahoo/privacy/products/mail/index.htm

Notes:
- To see all the new features, upgrade your device to iOS10.
- Optimized for use with VoiceOver.