Can you keep a flame burning?
$2.99

in the App Store
Burn the Rope 3D is a unique game where players rotate 3-D puzzles to keep the flame burning. There are over 70 levels and five worlds with 360-degree gameplay. You will need to twist, turn, and watch the flame to make sure it does not go out and burns through the entire piece of rope to move onto the next challenging level.
Direct The Flame In Multiple Directions. As the name suggests, your goal is to burn the rope. Swipe on the touch panel, and tilt the remote to move the rope for the flame to burn upwards, even when there are multiple flames.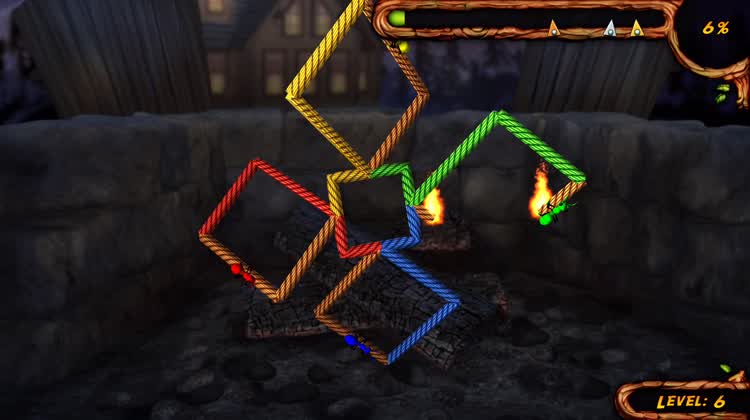 Multi-colored Ropes To Burn. As you progress through the levels, new colored ropes are introduced. You need to burn colored ants to change the color of the flame to match the color of the rope.
Spread The Flames With Explosions. Beyond the colored ants, there are also explosive bugs. They can help the fire spread across gaps in the rope.
What is it about?
Burn the Rope 3D is a fun, innovative puzzler where keeping the flame alive to burn through the rope is the goal to move on. You rotate the rope so that the flame does not fizzle out and burns the entire piece. The game brings different colored rope and other entertaining challenges like no other.
For those who...
For a challenging, distinctive type of puzzle game, Burn the Rope 3D is not only enjoyable but tricky. See if you can keep your flame alive and burn through the rope to move on. You must rotate it, color it, and make sure the flame does not fizzle to proceed to the next fun level. With stunning graphics, this is a great puzzler for Apple TV.
Not for those who...
Enjoy challenging puzzles
Why we love it
- Enjoy action games
App Details
Last updated
November 12, 2015
Release date
November 27, 2013
App Store Description
The trail-blazing franchise Burn the Rope is back, delivering a whole new dimension of gameplay to your favorite mobile device.
In this stunning sequel, fully rendered 3D visuals are added to classic Burn the Rope mechanics to create an experience like no other.
Start the rope burning and help Wickman by swiping to rotate the tricky 3D puzzles and keep the flame alive.
Burn the Rope 3D challenges the player to burn their way through over 70 levels with more to come in free DLC packs!
A multiple Game of the Year award-winner, Burn the Rope was lauded as one of the most innovative games in its space, generating 100 million downloads across 10 different platforms

Features:
-70+ levels!
-5 3D Worlds!
-Totally unique gameplay, with 360° control
-Appeals to all ages!
-3D puzzles like you have never seen them before!
-Throwback levels newly recreated in 3D
-Facebook and GameCenter integration!
-Free DLC!