Live and survive as a deer by solving puzzles and discovering secrets.
$4.99

in the App Store
The Deer God puts you in a pixel art game environment where you will embark on various quests. Search for items to assist you on your journey, reincarnate into different animals, and do your best to survive. Enjoy the day and night system, character interaction, and challenging puzzles.
Solve Puzzles For Upgrades. There are puzzles included in the world, and each successful solution helps you upgrade your deer from fawn to buck.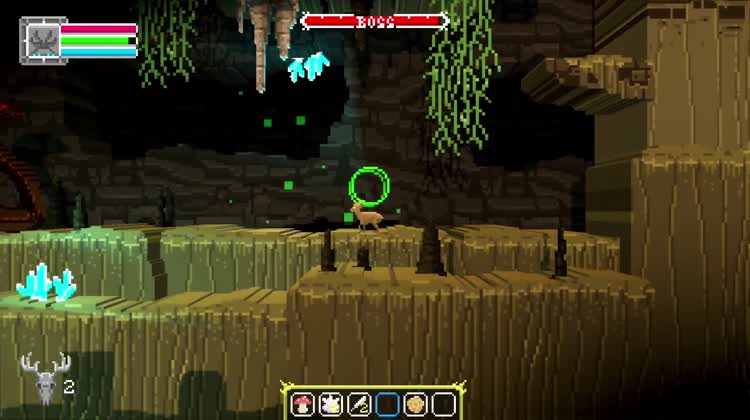 Fight Big Bosses. There are bosses hidden in caves. Each one offers an intense challenge, and a nice boost if you defeat them.
Beautiful World To Run Through. Use classic platformer elements to run and jump through a beautiful crafted 3D pixel art world.
What is it about?
In The Deer God you must survive by interacting with characters and animals on your journey to stay alive. You will also search for helpful items, uncover mysterious secrets, and solve perplexing puzzles in a unique and amazing adventure. Level up your antlers and show the forest who is boss.
For those who...
The Deer God has gorgeous graphics and an original soundtrack to enjoy as you play. Prepare to live and survive by solving ancient puzzles and discovering the secrets in this one-of-a-kind adventure.
Not for those who...
Enjoy stunning graphics and original music
Like dark story lines
Why we love it
- Enjoy fast-paced action or shooters - Like upbeat, lively adventures
App Store Description
"It can be a struggle, but it's all worth it when you're shooting fire out your antlers."
Kotaku

"The world of The Deer God is incredibly hostile, featuring so many dangerous animals it makes Far Cry 4 look like a petting zoo."
PC Gamer

"The side-scrolling puzzle game takes elements of an endless runner and an RPG and mixes them into something very special."
Polygon

The Deer God is a breathtaking 3D pixel art adventure that will challenge your religion and your platforming skills.
It's a game about survival, reincarnation, and karma; all set in a breathtaking and unique 3D pixelized world.
Feast your eyes on the beautiful lighting, day and night system, and vast landscapes.

Become one of the most beautiful animals on planet earth.

LIVE AS A DEER.

SURVIVE AS A DEER.

Features:
Gorgeous 3d pixel art world to explore
MFi Controller support
Various animals and characters to interact with
Night and Day system
Various quests
Tons of items to find and use
Reincarnate into other animals
Use the power of statues and level up your antlers
Find secrets and solve ancient puzzles
Follow an interesting and dark storyline
Amazing Original Soundtrack by Evan Gipson.

Follow us for the latest info and game news!

• http://crescentmoongames.com/other-games/
• http://facebook.com/crescentmoongames
• http://twitter.com/cm_games