The App Store takes delivery of hundreds of new apps per day. The overwhelming scene makes it possible to easily overlook an exciting game, valuable productivity suite, etc. However, we have a solution. Today's Best Apps tackles this problem by providing you with a handpicked and tested list of apps that are truly worth your consideration each and everyday.
iPhone:
Find your Path Pro by Developer iSoftware ($0.99, 38.4 MB): The child-friendly puzzler fun of mazes comes to iOS in an enhanced form. In extremely casual top-down gameplay, tilt your iDevice to navigate the ball to the tree at the end of the maze. Adding a little bit of difficulty, players will need to collect all of the stars to unlock later mazes. The game features 2.5-D graphics, multiple visual themes, two puzzle packs plus one bonus to offer a total of more than 80 mazes, and Game Center integration. Graphics are not optimized for the 4-inch Retina display of the iPhone 5 and 5G iPod touch.
Universal:
Photon Lab by Jonathan Kinnersley (Free, 4.1 MB): Flex your mind by working to solve the problem of path determination in this retro-themed puzzler. In each level, there is a grid of angled mirrors, laser generators, and light receptors. Your objective is to finish the assembly by placing the final mirrors so that all laser beams reach their color-coded targets using simple drag and drop control. The game features both a casual pace Puzzle Mode and time-based Speed Mode, 480 levels, 8-bit graphics, and Game Center integration. A $0.99 in-app purchase removes the ad banner and provides unlimited hints.
Catapult! by Amanda Gates ($0.99, 37.8 MB): A flip-flop of popular titles like Angry Birds, this physics-based puzzler has you defending a group instead of attacking one. Using only a limited number of stone blocks, bricks, and logs, protect as many nobles as possible, preferably all, by creating fort-like structures that will withstand a barrage of flying rocks, boulders, and chickens. The game features 60 levels distributed among 12 regions, cartoon-style graphics, as well as Game Center and Facebook integration.
Holey Crabz by GameResort LLC ($0.99, 32.6 MB): This adorable and whacky puzzle game involves 11 crabs who are eager to gather up starfish and jump back into their cozy underground nests. Your job is to direct the crabs by drawing lines through the sand and rocks before the starfish escape by burying themselves. In addition, these crabs are picky about getting to the correct holes and not crossing paths. There are more than 125 levels to complete and over 375 starfish to collect on the journey to unlock all 10 claw clapping friends.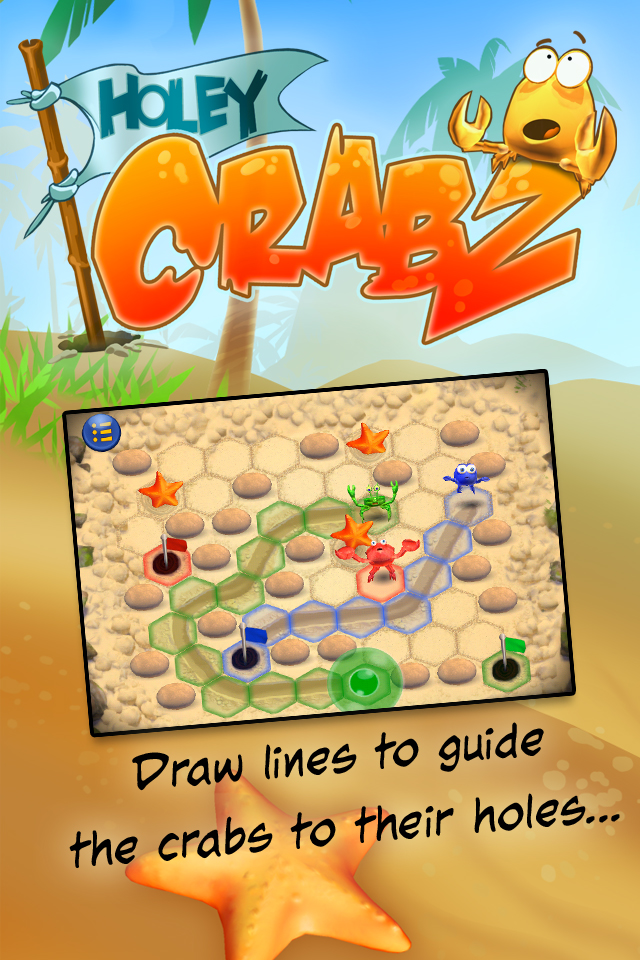 Open Circuit by WMD Entertainment LLC ($0.99, 3.9 MB): Discover the challenge of fixing a labyrinth of circuit paths in this electrifying puzzler. For each printed circuit board. tap on the path components until they are all connected and all circuits are closed. The game features a time-based star rating system, three stages of difficulty, more than 100 levels, and Game Center integration.
iPad:

Simon's Quest by M-Group llc. (Free, 190.8 MB): In this quirky point-and-tap adventure game, which includes mini-puzzlers and hidden object gameplay, a resident of the once glorious Bellyworld kingdom is summoned, who's now just a skeleton, to take part in a plan to avenge King Simon. The story is portrayed with whimsical characters and dialog using claymation-style 3-D graphics and captioned narrations. The free download allows a sneak peak by allowing you to play the first scene, afterwards, the full game is unlocked via a $1.99 in-app purchase.