The latest new games role into the App Store for a potential odyssey to your iOS device. This week isn't the huge avalanche of new releases, allowing us all to focus on some interesting titles. The early highlights include a snowboarding sequel, a dice based board game, an intriguing narrative adventure, and more.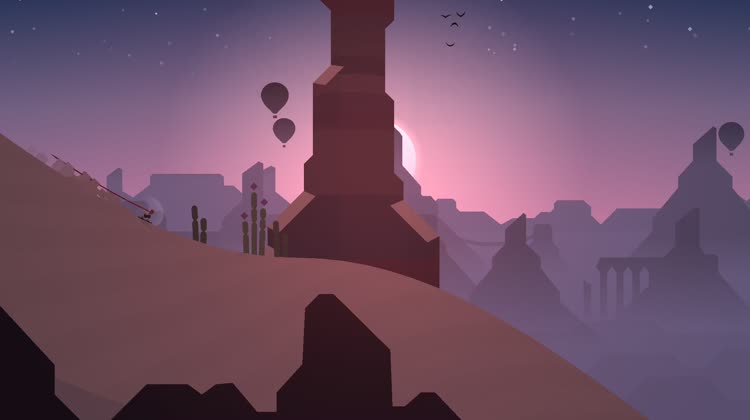 Alto and his friends have moved from snowboarding mountains to sandboarding dunes.
The sequel to Alto's Adventure took three years to make and is finally on the App Store.
Roll the dice to try to get the numbers on the accompanying cards.
The game stands out with the ornate 3D physics engine for authentic dice rolls. The cards have different dice roll combinations, and you try to clear the cards with each roll.
A choose your adventure game with a thrilling narrative complete with horror elements.
This is a game that defies convention to deliver a philosophical thriller that is arranged a bit like a dream. There's a detective storyline that is easy to grasp on to, and then mixed with elements of nihilism, existentialism, surrealism, solipsism and absurdism mixed with pure horror.
A physics based platformer in which you try to guide a square out of dangerous caves.
A danger filled cave sets the scene of this physics based platformer with 30 challenging levels. The game features a silhouette art style, tons of collectibles, and plenty of speed.
An intense 3D endless runner with all kinds of obstacles.
The game includes laser, swinging saws, and portals to contend with as you run along. There are tons of ways to die, and you also need to rotate the world at times to get past specific objects.
Remove all of the colored tiles by flipping tiles to make matches.
Each of the over 120 levels offers abstract color art to unfold and compress into nothingness. There will be colored squares within colored squares to flip in an attempt to make match with no tiles left behind.
A dace based battle game with an eclectic cast to battle against.
Each battleboard offers its own style as you face off against pirates, elves, dragons, beasts, robots, and more. Try to outroll your opponent with strategic focus on using specific dice rolls for and against specific characters on both sides.
A minimalistic puzzle game of solving contraptions.
Your goal is to figure out contraption for a hook to grab a puck, and reel it into the designated area. As you progress, the contraptions become more complex with multiple hooks, cranks, and pucks.