If The 2018 Oscar Nominees Were Mobile Games
The 90th Academy Awards will be revealed in short order. The grand prize of the night is the Best Picture Oscar, and there are nine nominees this year. We thought about the themes of the nine films, and found mobile games that share similar ideas. Below are all nine films, listed in alphabetical order, with our choices for a great match on mobile.
Watch The Oscars
No matter what games strike your fancy, you can tune in to watch the Oscars live to see which of these films is crowned Best Picture.
Watch "Call Me By Your Name," Play "A Normal Lost Phone"
Call Me By Your Name tells the story of a 17-year-old boy who has a new male tutor for the summer. The film depicts the progression as their budding friendship blossoms into a romantic relationship. The app A Normal Lost Phone isn't quite like that, but without spoiling too much, the game is, at its core, a coming-of-age story involving discovering one's own sexuality. The game gives you a phone, and your goal is to uncover the secrets that it holds with every message, dating site post, e-mail, calendar appointment, and more.
Peek into someone's life through their phone.
A Normal Lost Phone puts you in the shoes of the investigator. A cell phone is found and through reading messages, browsing pictures and applications you discover details about the owner. Ultimately discover there's mystery involved.
Watch "Dunkirk," Play "Valiant Hearts"
Dunkirk is a film that depicts the Battle of Dunkirk. As such, it is a microcosm of WWII itself, as hundreds of thousands of British and French soldiers are trapped on the beaches of Dunkirk under assault by a German force that's nearly twice as large. The movie has three distinct perspectives, with a focus on the fighting on the beach, in the air, and among the civilian boats coming to ferry men off the beach. Valiant Hearts delivers a similar focus, keying in on a select few characters on the game's historical battlefield. The main difference, of course, is that Valiant Hearts is set in WWI instead of WWII, but the tragedy of war is the clear, powerful message of both.
Point and click your way through this touching adventure about war
Get ready to experience a lot of emotion in this touching point-and-click adventure game about World War I.
Watch "Darkest Hour," Play "Think Like Churchill"
Darkest Hour details the trying times of Winston Churchill as he becomes the British Prime Minister at the outset of WWII and is faced with the impending fall of France to the Germans. Think Like Churchill is an educational game that is essentially an artistic biography of Churchill. In Think Like Churchill, you're given the background of the man and then presented with scenarios in which you use what you learned to make a decision as Churchill would. The decisions Churchill faces in Darkest Hour are trying to say the least, and Think Like Churchill offers a little more insight into how he came to those decisions.
Read about Churchill, and try to make decisions like he would.
The app is styled after a graphic novel to depict each of the six tough decisions you will have to make. Each decision is analyzed and deciphered as you're giving the scenario and have to make a choice. The includes over 80 authentic original documents from the Churchill library.
Watch "Get Out," Play "Inside"
Get Out is a bit genre-defying, yet it still maintains a visceral horror vibe. You follow a young black man's trip to meet his white girlfriend's parents. Without spoiling it, there's a reason he needs to "get out." Similarly, Inside is a survival horror game in which you play as a little boy in a futuristic dystopia where everyone is being turned into mindless drones. Ironically, the two titles deliver a juxtaposition, and yet the two storylines require both main characters to "get out." In Inside, you need to guide the little boy out of his predicament through challenging adventure sequences in a monochromatic world. Even though it's a monochromatic world, nothing is ever truly black and white.
The best part is that after a few sudden changes, you come to expect them, which builds up suspense as you move through the world.
Inside continues the 2D puzzle platformer formula of Limbo, and enhances it in nearly every way. Prepare for a suspenseful storyline filled with eerie moments.
Watch "Lady Bird," Play "Florence"
Lady Bird is a coming-of-age story about a high school senior. The film focuses on Lady Bird's first romantic relationship as well as the relationship the girl has with her mother. Lady Bird's ultimate goal is to go to college out of state, to be away from her mother. Florence is perhaps only barely a game, as it's more of an interactive narrative that covers a coming-of-age story in its own right. Florence tells about the main character's first relationship and disconnect with her mother. Sounds familiar, doesn't it? Yes, Lady Bird has an ornate script while Florence has no dialogue at all, but both convey the challenges facing young women as they grow up in the world.
An Interactive Storybook
Experience an endearing and heartfelt story in Florence as you witness a young girl go through the various stages of first love.
Watch "Phantom Thread," Play "Patchwork"
Phantom Thread revolves around a fashion designer at the emotional height of his career. The movie delves into his romance with a young love, but the core idea of being a couturier applies to one game in particular: Patchwork. Patchwork is a board game in which you sew pieces into a quilt and try to complete your masterpiece before your opponent finishes theirs. The board game doesn't have a narrative, but the focus on creation via the sewing of threads — by bringing things together so they don't fall apart — is shared by both film and game.
Sew up some fun with this mobile version of the physical board game.
In Patchwork: The Game, each oddly shaped piece of fabric will cost you buttons and provide you moves on the timeline game board. Once you pick your piece, you can place it on your board wherever you like. Then tap the stitch icon to secure it in place. The winner of the game is the one who reaches the end of the timeline game board first. You can play with an opponent online, locally, or against the AI.
Watch "The Post," Play "The Westport Independent"
The Post is set in 1971 and details the historic struggles that newspapers face when publishing politically sensitive documents. The movie focuses on The Washington Post's owner and executive editor as they wrangle with the implications of printing portions of the "Pentagon Papers." Naturally, there are extreme legal and political obstacles they must face in doing so. The Westport Independent is a game that lets you act as the editor of a newspaper set in a fictional dictatorship where everything is censored. The game is set in a much more oppressive society than that depicted in The Post, but both movie and game deal with overreaching governments trying to influence what the press publishes and what the people think.
Decide what articles to publish under strict censorship by the government.
The Westport Independent lets you play as a newspaper editor trying to survive in a totalitarian state with strict censorship. You need you pick and choose the right articles, and the best headlines to continue to operate by making appealing articles to sell papers, but make sure those articles don't prickle the feathers of the government.
Watch "The Shape of Water," Play "Love You To Bits"
The Shape of Water is a gothic noir masterpiece that tells a story of the unique romantic attraction between a mute woman and a captive merman. The film is beautifully shot, with so much care and craftsmanship put towards establishing the era and the story's unique setting. In the same vein, Love You To Bits provides its own romantic story of an unusual connection between a man and a robot. The game is packed with personality and charm, which is expertly applied to the title's ornate puzzle adventure scenes. Love knows no bounds in these two, for both the players and the production teams.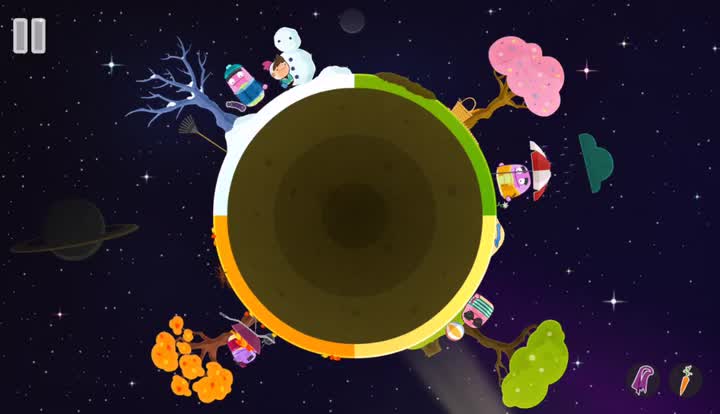 An endearing point-and-click puzzle adventure
Love You To Bits is a cute point-and-click puzzle adventure that tells the story of Kosmo, a clumsy space explorer, who is in love with Nova, his robot girlfriend. As they travel through space together, a fatal accident scatters Nova's bits across the galaxy, and Kosmo must set out on a quest to collect them and rebuild her to be together again.
Watch "Three Billboards Outside Ebbing, Missouri," Play "Thimbleweed Park"
Three Billboards Outside Ebbing, Missouri, delivers a darkly comedic storyline revolving around the rape and murder of the main character's daughter. The local police have a tough time gaining any traction in the case that rocked the small town, and the progression of their investigation reveals far more than anyone ever expected. It was tough to find a match for this one (mainly because of the film's brutal, decidedly adult setup), but Thimbleweed Park has some definite similarities. The game lets you play as two different detectives trying to solve a murder in a small town. Like the movie, the game delivers an outstanding storyline with a sharp focus on all the twists and turns you expect — and many that you don't.
Thimbleweed Park is a point-and-click adventure game that's dark, mysterious, and packed full of humor.
The classic style of point and click adventure games of the past like Secret of Monkey Island, Maniac Mansion, and others are on full display in Thimbleweed Park. You get to play as two FBI Agents who are faced with a small town murder to solve. There are numerous quirky characters to interact with as you play through a storyline that is about a dozen hours.
Conclusion
No matter the subject matter or genre, there are mobile games you can find that connect substantially to the diverse nominees of the 2018 Academy Awards. And because of the nature of entertainment in all its forms, successful filmic themes will no doubt always translate to similar themes across other media. Sometimes the very best, most thoughtful game adaptations aren't actually the commercial tie-ins at all.