NEW 2

300! | AmbiScience™ :: White Noise, Brainwaves, Relaxing Music and Sound Effects!
by Tesla Audio Sciences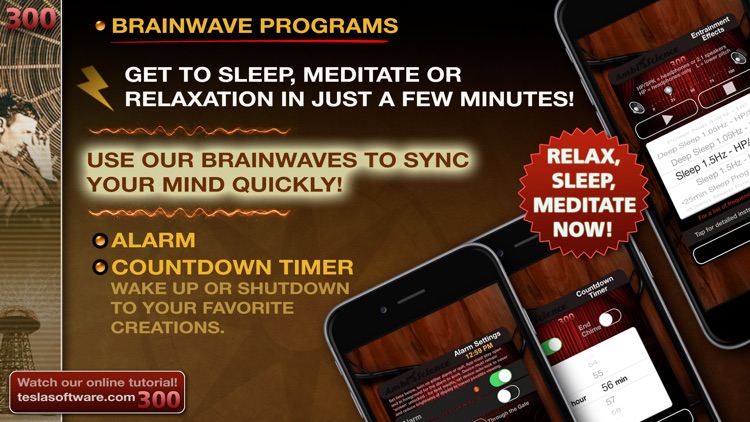 What is it about?
NEW 2.2 UPDATE!<< for iOS7 and iOS8.
For those who...
It's perfect for those who want to attune their brains to desired states of mind.
Not for those who...
Really, everyone should give 300 a try. But if you believe you're already relaxed enough, you can skip it.
Why we love it
If you are having troubles focusing, give 300 a try. It's so easy to use you'll be able to go from high strung to calm in no time.
App Store Description
NEW 2.2 UPDATE!<< for iOS7 and iOS8.
*Note: For iPhone 6 and 6Plus users, use the 'Zoom' feature to increase app size.

"I highly recommend it because it's genuinely useful."
- REDMOND PIE.COM

OVER 1.5 MILLIION USERS SINCE 2008

-----------------------------------------------------
The only sleep/relaxation app you'll ever need.
-----------------------------------------------------

• THE ONLY APP WHICH ALLOWS BRAINWAVE AUDIO, WITHOUT HEADPHONES •

Let AmbiScience™ take you on a sonic journey with a combination of ambient electronica and a variety of several effective programs that attune your brain to desired states of mind using the best entrainment frequencies. Tune your mind to help you with sleep, relaxation and more.

FEATURES:
• 50+ Pro Evocative Long Ambient Tracks!
• 190+ Sound Hit Intervals!
• 40+ Nature and Sound Loops!
• 19 Brainwave Entrainment Effects

• Create your own custom programs
• NEW! INTERVALS feature!
• Multitasking background audio available!
• Play your iPod music with entrainment!
• Perfect Seamless Loops
• Full-Featured Mixer presets / Multi-Track Save
• Countdown Timer with fader
• Alarm with Snooze option
• Auto Quit/Exit feature
• Adjustable independent volumes
• Highest quality audio

• 50+ AMBIENT MUSIC LOOPS:
• Through the Gate • Dreaming in the Rain • Approaching Zentropia • Planetside • Rainy Forest • The Lake • Underwater Ocean Tour • Oceanview • Rain and the City • Lost Moments • The Inner Temple • Dancing Coils • Misty Mountains • Formosa 2064 • Daedalus Convolution • Dreamcatcher • Aquatic • Pull • Meditation Bells • Beyond the Light • City of Rain • Cybernetic Dreams • Deckard's Ballad • Hello Alice • Man of Mind • Need some Clarity • Superconscienceness • Leaving Zentropia • Tesla at Twilight • Desert Sunrise • Didgeridoo Dreams • Angel Ascension • An Evening Rain • High Plains Japan • The Power Plant • Joseph's Dream • High Plains Asia • Tesla's Lab • Gone Fishing • Buddhist Rain • The Power Plant • The Fountain of Raw • A Visit to Olympus Mons • Plus 6 Misc. Drones to make your own custom tracks!

• 40+ NATURE + SOUND LOOPS:
• Airplane Cabin • BassPulse • Birds • Campfire • Chimes • City Sounds • Crickets • Crickets Chimes • Didgeridoo Sounds • Fan Machine • Fish Tank • Forest Day • Forest Night • Frogs • Jaracanda • Jungle • Lotus • Night • NightCamp • NightScape • Night Time • Noises • Ocean Beaches • Oceans Surfs • Rains • Stream • Train Journey • Thunder • TickTock • Traffic • Tree Frogs • Underwater • Waterfalls • Wind

• 190 + INTERVAL SOUND HITS:
• Categories include: • Animals • Ambient • Game • Mechanical • Musical • Radio • Sound FX • Voice • Weather

• 19 BRAINWAVE/ENTRAINMENT PROGRAMS:
• Power Nap • Deep Sleep • Sleep • 25min Sleep Prog • 12min Sleep Prog • 3min Caffeine Prog • 3min ADD Prog • Attention and Focus • Memory Improvement • Remove Fear/Guilt • The Solfeggio Frequencies!

• Isochronic - headphones not required.
• Binaural - requires headphones.

• HOW DO THE BRAINWAVES WORK?
Once you choose a particular frequency, such as the 'sleep' (brainwaves) frequency, this state is then more quickly achieved than normal. This is done by a mixing of tones sent to each ear - the difference between the two tones, that your brain creates, is called binaural brainwave entrainment. We also include isochronic entrainment, which is a different form, using a single pulsating tone in each ear - people who don't respond to binaurals, often respond to isochronics.

• THE ONLY APP
AmbiScience is the only app which includes binaurals and isochronics in ONE.

• INCLUDES PROGRESSIVE BRAINWAVES
This app also offers Progressive brainwave entrainment, which is a gradual inducement to your chosen entrainment (brainwaves), and this is done by starting at the waking state frequency and gradually moving the user down to his/her chosen frequency.

Go to teslasoftware.com for a VIDEO tutorial.
Disclaimer:
AppAdvice does not own this application and only provides images and links contained in the iTunes Search API, to help our users find the best apps to download. If you are the developer of this app and would like your information removed, please send a request to
[email protected]
and your information will be removed.