"In 2264, an unprecedented disaster put an end to all living things
Atom Run
by Fingerlab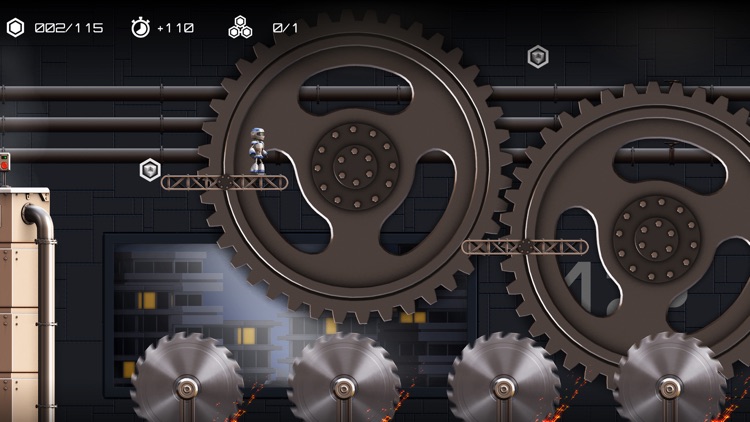 $1.99

in the App Store
Take control of Elgo, a sophisticated robot prototype, and find all of the atoms and molecules for creating new life in Atom Run.
What is it about?
"In 2264, an unprecedented disaster put an end to all living things. Only the robots survived - but when exposed to radiation, they become uncontrollable! With one exception..."
For those who...
It's ideal for fans of platformers, especially those with MFi game controllers.
Not for those who...
The game can be a bit difficult since you need to not only beat the clock but also collect the atoms and molecules to unlock later levels. It's definitely not for the faint of heart.
Why we love it
If a challenge is what you're looking for, you've found it. Atom Run isn't just a regular platformer; it's all about the speed runs.
App Store Description
"In 2264, an unprecedented disaster put an end to all living things. Only the robots survived - but when exposed to radiation, they become uncontrollable! With one exception..."

You control Elgo, a sophisticated robot prototype with simple, intuitive commands. Your mission is to find all the atoms and molecules that are critical to creating new life. Act fast, because your time is short!

Features & Highlights of this Game:
- Action-adventure fast paced platformer game
- Experience worthy of a game console fully optimized for iOS
- Optimized for retina display
- 2D game engine, 3D graphics
- Precise and intuitive commands
- Original music electronic music
- Supports iOS joysticks (Game Controller MFI)
- Game Center
- Complete Game! Free of ads and does not feature additional purchases
- We do not collect any personal information.
- Atom Run is available in: English, French, Italian, Chinese, German, Spanish, Japanese, Korean and Russian.

System Requirements:
Atom Run requires iPad 2, iPhone 4S or iPod Touch (5th generation) or higher - or a newer device.

Don't hesitate to leave us a rating or a comment in iTunes.

About FingerLab:
FingerLab is an independent app development & publishing studio. In 2012, it won the Apple Design Award for its app "DM1-The Drum Machine." Besides, it has even been featured in the iTunes App Store in several categories including Best of 2013 (Musyc), App of the Week (Rockmate, Albert & Multiponk), Hall of Fame (Multiponk, DM1).

Watch us: vimeo.com/fingerlab
Visit us: fingerlab.net
Follow us: twitter.com/fingerlab

Powered by Fingerlab