Memorize before the lights go out.
Aureus Prime
by Galta
Match the elements. Take a good look at the board while it is lit up because the lights will go out! You must then match elements to create electrical currents that will briefly illuminate the board, disintegrate the elements, and turn them into gold.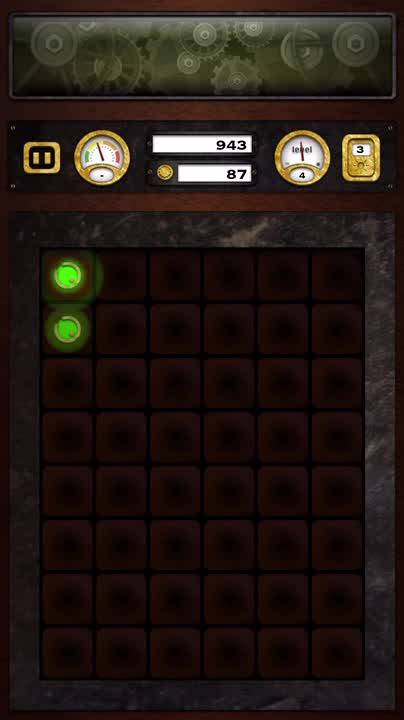 Match the Elements. While the board is briefly illuminated from creating a match, you will have another chance at seeing where elements are located and how they're aligned.
What is it about?
Lights out! Do you have enough visual memory to beat this new tile matching game?
For those who...
It's ideal for anyone who wants to work on their memorization skills.
Not for those who...
Aureus doesn't have many shortcomings, but if we're going to nitpick, it would be nice if the game had a campaign or level mode where you could continually progress instead of having to play in one sitting.
Why we love it
If you're tired of the same old matching games, Aureus is perfect for you. It successfully combines multiple elements to bring you something wholly unique.
Aureus Prime is $1.99 but there are more add-ons
$1.99

Coin Doubler

$9.99

400 000 Coin Pack

$4.99

100 000 Coin Pack

$1.99

20 000 Coin Pack

$0.99

5 000 Coin Pack
App Store Description
Lights out! Do you have enough visual memory to beat this new tile matching game?

Memorize the board, match hidden elements, produce gold, upgrade the machine, and fight the ever so quickly increasing pressure. Play online with up to 3 opponents to determine who has the best visual memory or fastest fingers and collect their gold by defeating them!

Take a break from classic matching games and see if you can master this new twist!

--

In Aureus the player is tasked with operating the elements of an electrically charged gold producing machine. The machine operates in the dark, with all elements hidden from the player. Matching similar elements creates an electrical current which briefly illuminates part of the board, disintegrates the matched elements, and produces gold.

Players must rely on their memory to match hidden elements. Speed is likewise essential to master the Aureus which has a strong tendency to overheat. Skilled players have the option of using gold coins earned over time to upgrade the machine. Upgrades can reduce pressure, slow falling elements, or minimize the impact of failed matches amongst other benefits. Once fully upgraded, Aureus provides its fastest game mode with frantic gameplay.

At a basic level, Aureus can be played as a tile matching game with a twist. At the most complex level, Aureus demands a combination of strategy, dexterity and memory. The most efficient way to play is by making a succession of small matches to regroup similar elements, followed by more complex matches to produce large amounts of gold coins. As the pressure increases, the player must master a balance between speed and memorization to optimize the number of coins and the final score.

Aureus features 3 game modes:
* Endurance: the classic mode, with continuous game play until the machine breaks
* Time Trial: the perfect mode for short sessions, with game play limited to 90 seconds
* Online: a multiplayer mode in which players can challenge up to 3 opponents