Step aboard a fantastic adventure
Azkend 2 - The Puzzle Adventure
by 10tons Ltd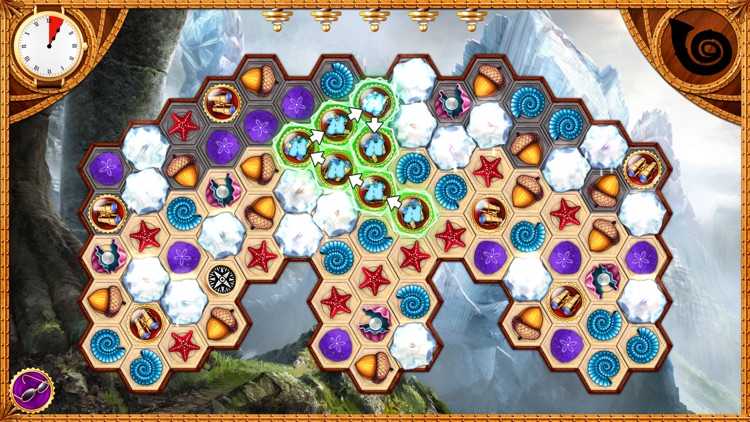 $5.99

in the App Store
The sequel to 10tons' smash-hit casual matching game. This time around you're tasked with acquiring pieces of items that will help you find your way out of the bowels of the earth and return to civilization. It's perfect for anyone that can appreciate gorgeous visuals in their matching games.
What is it about?
Step aboard a fantastic adventure! Enjoy amazing match-3 gameplay and discover some of the most astonishing worlds ever imagined.
Why we love it
If you like matching games of any kind, this elegantly designed adventure will reel you in and not let you go. After you've completed the story you can try your hand at the challenging time and medal modes.
App Store Description
Step aboard a fantastic adventure! Enjoy amazing match-3 gameplay and discover some of the most astonishing worlds ever imagined.

REVIEWS & HIGHLIGHTS

#1 in Quality Index puzzlers category for the iPad.

"Put simply, match-3 games don't reach higher quality than what you'll find in Azkend 2."
-gamezebo.com 5/5

"Azkend 2 is a surprise on every level, combining puzzles and a great story for a memorable adventure."
-slidetoplay.com 4/4 (must have)

"Azkend 2 is a gorgeous tile-matching puzzle game ideal for casual gamers."
-148apps.com 4.5/5

"Overall, I was extremely impressed with the quality of Azkend 2. The puzzles are lots of fun and challenging. The app has exceptional graphics and is very well designed. I highly recommend this game."
-appadvice.com 5/5

"Azkend 2 HD is a terrific 4.5-Dimple stud."
-appsmile.com 4.5/5

"An elegantly designed puzzle adventure game with astonishing looks."
-Best10Apps.com

"Azkend 2: The World Beneath is definitely from the Champion's Stable and offers seriously addictive game-play along with several interesting twists I've not seen in any other matching tile release."
-clockerz.co.uk

STORY

While traveling from Liverpool to New York, your ship was pulled down into a massive maelstrom. You woke up in a place that may have never been gazed upon by the eyes of men. From now on, your goal is to ascend from the bowels of the Earth and return to civilization.

DESCRIPTION

Enjoy dozens of exciting levels with varying gameplay in the Story Mode. Your story, drawing inspiration from Jules Verne, is told with gorgeous full screen animated scenes and professional voice overs. Experience awe and wonder as the eight fantastic scenes change as you move through them.

Azkend 2: The World Beneath features several different and exciting level types. The game features nearly twenty unique powerups and more than a dozen achievements. Choose your powerups wisely for each level to hasten your journey.

The game includes two challenge game modes, Time and Medals. The Time challenge is a bite-sized two minute game where you must score as many points as possible to gain fame on the Game Center leaderboards. In Medals challenge get to replay all the levels from Story Mode and attempt to earn a medal from each one.

FEATURES

- Carefully polished gameplay and controls
- Eight unique hand drawn and animated scenes
- Three game modes; Adventure, Time and Medals
- More than 60 levels in the Story Mode
- Game Center leaderboards for the Time challenge
- More than a dozen Game Center achievements
- Professional voice overs in the story scenes
- Cinematic soundtrack by Jonathan Geer
- Universal app: Compatible with all iOS devices

VIDEO

Check out the trailer here: http://bit.ly/azkend2vid