The best Baby Names app
Baby Names‼
by Sevenlogics, Inc.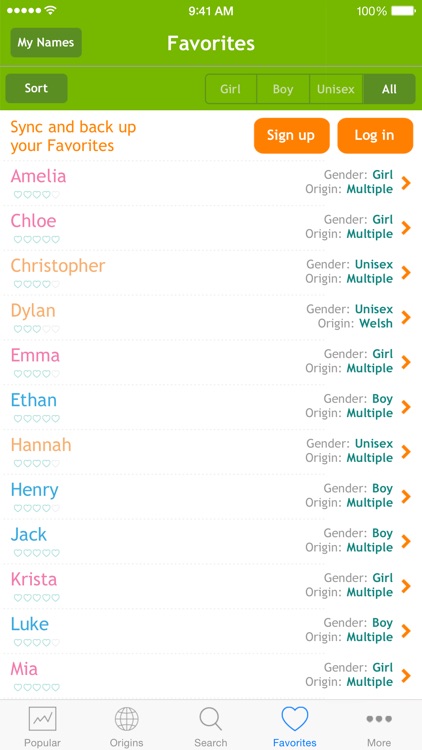 FREE

in the App Store
For each name, Baby Names will give its meaning, pronunciation, origin, and whether it is a male or female name. The database has a little over 30,000 names with the ability to save and rate your favorites.
Find the perfect baby name. You can see a name's meaning, pronunciation, gender, and origin. You can check how popular any name (including your own) was for any year back to 1880. You can save and rate your favorite names.
Search the perfect baby name. You can search by name, gender, origin, meaning or any of those criteria (and even by initial)
What is it about?
Baby Names is one of two essential baby naming apps. This free tool lets you see naming trends, such as when a certain name was most popular. This is a great app with pleasing aesthetics, and best of all, it is free.
Baby Names‼ is FREE but there are more add-ons
App Store Description
The best Baby Names app!

Find the perfect baby name with this FREE app. Packed with more than 30,000 names, Baby Names makes it fun and simple to:
● See a name's meaning, pronunciation, gender, and origin
● Check how popular any name (including your own) was for any year back to 1880
● Search by name, gender, origin or any of those criteria (and even by initial)
● See a list of related names
● Share names by e-mail and Facebook


● See a map view of any name's origin
● Add, rate, and share your own names with the My Names feature
● Periodic name suggestions
● Ask Genie for names that go perfectly with mom's and dad's names!
● Save and rate your favorite names and sort them by gender, date, spelling and your ratings