Explore the Psyche of Bruce Wayne in Batman - The Telltale Series
Batman - The Telltale Series
by Telltale Inc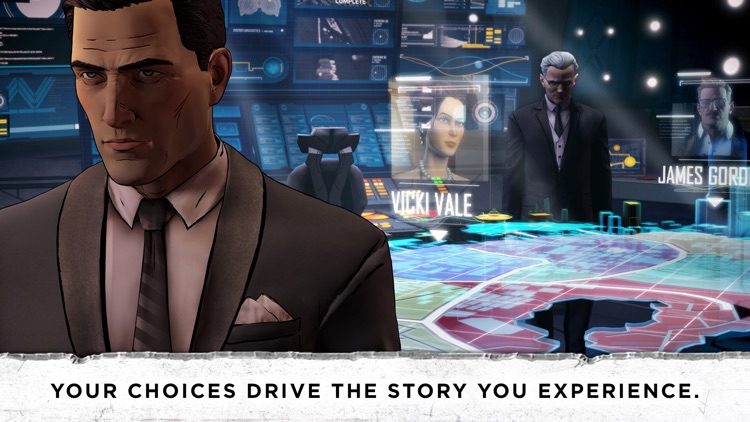 FREE

in the App Store
Batman - The Telltale Series is the mobile port of the new episodic Batman game from Telltale. Explore Bruce Wayne's psyche and engage in fun battles as Batman.
It's your call. As you control Bruce Wayne, you'll be making some tough decisions throughout the story with different characters. Choose wisely! They'll notice your answers and remember them, affecting the story's outcome and the fate of Batman himself.
Your favorite characters. If you're a longtime Batman fan, then you will encounter a lot of familiar faces. Be prepared for an immersive story that unfolds with the outcome weighed by your own decisions.
Intuitive controls. Tap on the objects with circles to interact with them. Move Bruce by dragging your finger around when your'e able to. Combat involves timing your swipes and taps correctly in order to watch seamless combat scenes unfold.
What is it about?
Telltale has been on a roll with their point and click adventure games including The Walking Dead, The Wolf Among Us, and Minecraft Story Mode. Their latest effort is Batman, and it offers an all new take on the caped crusader. The familiar Telltale style is included with touch decisions to make within intricate dialogue as well as quick action swipe gesture sequences. The game relies on fleshing out Bruce Wayne as more than just Batman's alter ego, and delivers the most action of a TellTale game to date when you put on the suit. You get to do everything that Batman does including fight enemies, investigate crime scenes, and interact with the city as Bruce Wayne.
For those who...
Enjoy Telltale's episodic games
Are big fans of Batman
Love a good adventure
Not for those who...
Don't like episodic games
Don't care for Batman or Bruce Wayne
Want a casual puzzle game
Why we love it
The graphics are good, the music and sounds are immersive, the voice acting is amazing, and there are intuitive controls. It's Batman, what more do you need?
Batman is FREE but there are more add-ons
$14.99

Multi-pack [Episodes 2-5]

$4.99

Episode 2

$4.99

Episode 3

$4.99

Episode 4

$4.99

Episode 5
App Store Description
Begin your adventure - Episode One now FREE! Discover the powerful and far-reaching consequences of your choices as the Dark Knight. The fate of Bruce Wayne, his dark persona, Batman, and Gotham hang in the balance.

In this gritty and violent new story from the award-winning creators of The Walking Dead – A Telltale Games Series, you'll make discoveries that will shatter Bruce Wayne's world, and the already fragile stability of a corrupt Gotham City.

Your actions and your choices will determine the fate of the Batman.

Includes Episode 1 in this all-new series from the award-winning studio, Telltale Games.

***Save 25% on additional episodes in Batman - The Telltale Series by purchasing the Multi-Pack [Episodes 2-5 bundle, available now] via in-app in the 'Episodes' menu***

*NOTE: Recommended Devices for the best gameplay experience - iPhone 6 and up, iPad Mini 4 and up, iPad Air 2 and up, and iPad Pro - also requires iOS 10.0 and up.*