Vehicular assault.
Battle Riders
by Valentin Ciampuru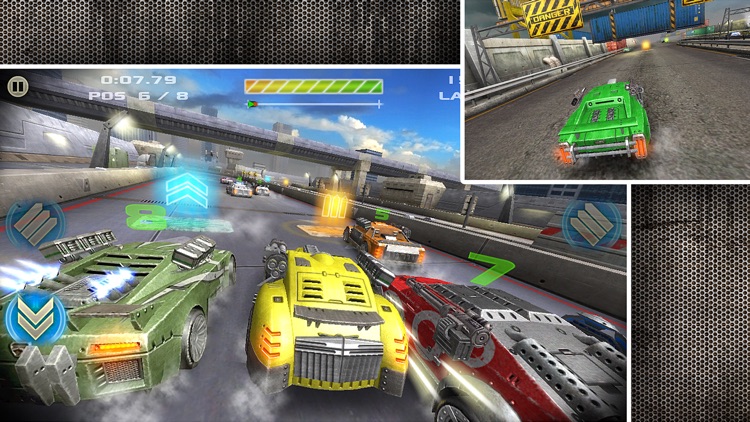 $1.99

in the App Store
Jump behind the wheel of some bruising vehicles and blast your way to the finish line in Battle Riders.
Choose the raptor and the weapons.
Collect the boosts and power.
What is it about?
Battle your way to first place in this amazing combat racing game! It offers adrenaline pumping, high-octane action and a lot of fun! No in-app purchases.
For those who...
It's perfect for gamers who enjoy combat racing.
Not for those who...
It's single player only. If you want to battle friends in epic wrecking races, you'll have to get your fix somewhere else.
Why we love it
If you enjoy games like Mario Kart, check out Battle Riders. It's more of the same, except with a more realistic tone.
App Store Description
Battle your way to first place in this amazing combat racing game! It offers adrenaline pumping, high-octane action and a lot of fun! No in-app purchases.

TOUCHARCADE - 9.0 - "Wreck And Roll Racing"
POCKETGAMER - 8.0 - "A compelling and satisfying post-apocalyptic arcade racer"
148APPS - 8.0 - "Battle Riders is a slick, well-made take on vehicular manslaughter"
APPSPY - 8.0 - "Battle Riders delivers aggressive, compelling races with explosive gunplay"
ARCADELIFE - 9.0 - "Full Speed Winner"

• GRAPHICS
Metal and 64 bit support deliver amazing graphics and effects, enabling full real-time lighting and shadows.

• GAMEPLAY
Win races and complete the career mode, which spans over 120 events. Unlock new racing tiers, enabling higher speed and better weapons.

• RACING MODES
Hit the tracks in 6 racing modes: Duel, Battle Race, Survival, Elimination, Clean Race and Time Trial.

• UNIQUE CARS
Choose from 7 unique cars, specially built to sustain the challenges of combat racing. Upgrades and customizations are also available.

• WRECK THE COMPETITION
Powerful weapons from 5 different types: Machinegun, Missiles, Mines, EMP and Raygun.

• EXCITING TRACKS
Blast your way to greatness on 9 tracks across 3 different environments. Each track also features a reversed version, for a total of 18 tracks.

• CHALLENGES
By completing tiers you also unlock fun challenge modes: Time Attack, Minefield and Barrels.

• SMOOTH CONTROLS
Choose tilt control, arrows or on-screen joystick to drive and blast away the competition.

• GAME CENTER
Unlock great achievements and compete for the first place on the Wrecks Leaderboard.

• COMPATIBILITY
Universal, works on all devices starting with the iPhone 3GS, iPod Touch 3 (except the 8 GB version) and iPad 1. Some features are not available on older devices.

Note: The game does not have multiplayer.

www.facebook.com/BattleRidersGame

www.battleriders.net