THE essential tool for all Independent Beachbody Coaches who are serious about building their business
BB Links - Your Coaching Links
by Justin Stanley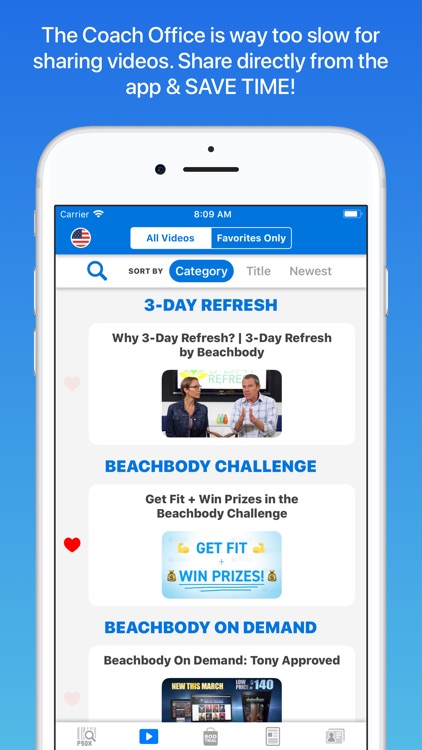 What is it about?
THE essential tool for all Independent Beachbody Coaches who are serious about building their business! Made BY a coach, FOR coaches!
BB Links is FREE but there are more add-ons
App Store Description
THE essential tool for all Independent Beachbody Coaches who are serious about building their business! Made BY a coach, FOR coaches!

---------------------------------

Hey Beachbody Coaches! Do you find it frustratingly slow finding and creating the correct links for sharing Beachbody workout programs and supplements with potential and current customers?

BB Links takes all of that pain away!

• Save your Coach account information such as coach ID and teambeachbody.com username and have BB Links reliably create your referral links!
• Search the complete product catalogue with instant results, including quick filters for categories like Challenge Packs and Nutrition & Supplements
• Quickly change store settings to switch between U.S. (English or Spanish), Canada, and the UK!
• View FAQs directly on each product's details screen!
• Complete pricing for customers, coaches, personal volume (PV), team volume (TV), and bonus points (BP)
• Heart your favourites for even quicker access!
• Promotion information!
• Test out the links right in the app, and either quick copy it or share right to any of the iOS share-supported apps like SMS/iMessage, Mail, Notes, Facebook Messenger, Evernote, Messages, etc.
• Sharing videos from the Coach Office is SLOW. Share videos quickly right from BB Links; plus they all have thumbnail previews!
• Share your Personalized Sites, like your Team Beachbody Coach site, and other Shop/Sign-Up links that have your referral coach ID/username added!
• Support for multiple coach accounts and quick switching!
• Includes a tab with useful coach resources such as links to the Coach Online Offices (both current and previous), the Team Beachbody Coach News Feed, the Beachbody FAQs, Beachbody Live Chat, Mobile Coach/Customer Enrollment App, Beachbody's Web and iOS Apps, the Fitness Program Comparison Chart, the Challenge Pack Coach Enrollment Refund Form, Military Fax Form, BAT, the Team Beachbody blogs and more! EVERYTHING IN ONE PLACE!
• iCloud sync allows you to setup your favourites, accounts and defaults on one device and have them automatically synced to your other devices!
• Remove ads permanently via in-app purchase!

---------------------------------

Praise for BB Links from Independent Team Beachbody Coaches!

"Thanks so much for the app! What a life saver!! I've tried other sites and they don't work. This is just what we needed as coaches!!"

"Justin, THANK YOU for creating the BB app for coach links! It is an amazing tool that I have already started using."

"Thanks for the app it's helping my team so easy please keep it up and bug free! We love it!"

"This app is awesome and a must have for all coaches. I'm very new to coaching and this app helps me quickly access all the products Beachbody offers and links my customer directly to my page! Works flawlessly every time! Thank you thank you thank you!"

---------------------------------

Enjoy and don't forget to share this app with your coach friends!


BB Links is created, developed, and maintained by Independent Beachbody Coach Justin Stanley from Winnipeg, Manitoba, Canada!