A puzzle game unlike anything you've played before.
Blackbox :: infamous puzzles
by Ryan McLeod
watch trailer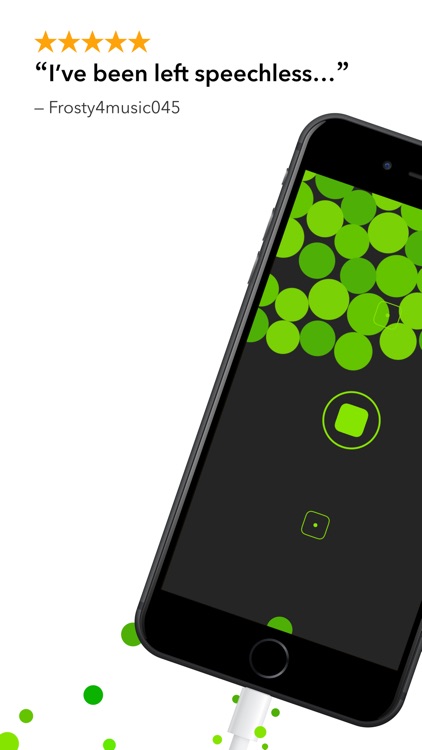 FREE

in the App Store
Blackbox is a creative and clever puzzle game where you solve puzzles using your iPhone's hardware. There are no finger swipes — understand your hardware and use it to find the solutions through creative tinkering.
Think outside the box. You're going to really have to use your head to understand how to solve these puzzles.
Use the hardware. Understand your iPhone's hardware in order to solve these unique puzzles. No finger swipes necessary.
Be clever. Think about each challenge in a new perspective and use your hardware to solve it.
What is it about?
Blackbox is a challenging puzzle game that forces players to think outside the box and come up with creative solutions to puzzles. You'll have a better understanding of all of your phone's functions after playing this game.
For those who...
Want innovation
Love puzzles
Not for those who...
Want the same boring puzzles
Why we love it
The controls involve using all of your phone's features, rather than depending on boring finger swipes on the screen. It's innovative and awesome, to say the least.
Blackbox is FREE but there are more add-ons
$1.99

Erudite Pack

$0.99

1 hint credit

$1.99

Push Pack

$1.99

3 hint credits

$3.99

7 hint credits

$9.99

20 hint credits

$2.99

Coffee for Ryan

$19.99

42 hint credits

$7.99

California Burrito
App Store Description
Blackbox is one of iOS's #1 puzzle games but don't take my word for it—read from over 80,000 five-star reviews worldwide. Rather not? That's cool. Here are some nice things people have said about Blackbox:

○ "Unlike anything you've ever played before" —App Advice
○ "Constant how-did-they-do-that moments" —Skottk
○ "Utterly diabolical and utterly brilliant" —CNET
○ "Undeniably unique" —Todays iPhone
○ "Devilishly clever" —Six Colors

Explore 73 unique puzzles (MORE COMING) without touch… Tilt, shout, click, snap, wait, reflect, and hike your way to success; expand your creative thinking; ponder colorful visual clues; discover secrets along the way…


––––––––––––––––––––––––––––––––––––––––


BEAUTIFULLY CLEVER

With ample satisfying "ah hah!" moments and puzzles as artful and clever as they are challenging, Blackbox is as delightful to play as it is to look at and hold.

SATISFYINGLY SURPRISING

Frustrating, fun, and full of surprises… There's more to Blackbox than meets the eye. Can you find all the meta challenges?

HINTS

Every challenge has been tuned to be on the cusp of maddening but always solvable. Some challenges take time, perseverance, and perspective to understand, but if you're really stumped rest assured there are hints. To enjoy the game to it's fullest, only use them as a last resort!

LEVEL PACKS

Blackbox is jam-packed with 50 free challenges. Get far enough and you'll get the option to pay to unlock more advanced challenges and support the game's future development (and keep it ad free)!

Good luck,
~Ryan


––––––––––––––––––––––––––––––––––––––––


ADD ME ON INSTAGRAM
instagram.com/blackboxpuzzles

LET'S BE FACEBOOK FRIENDS
facebook.com/blackboxpuzzles

FOLLOW THE LATEST ON TWITTER
twitter.com/blackboxpuzzles