The fifth and final instalment.
Blackwell 5: Epiphany
by Wadjet Eye Games LLC
watch trailer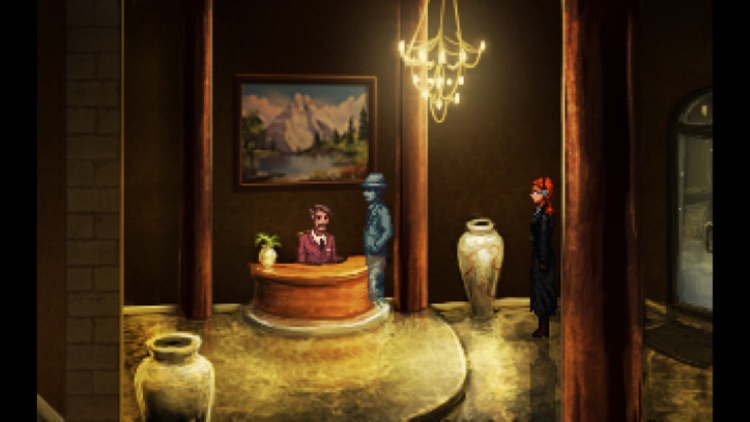 $3.99

in the App Store
Blackwell 5: Epiphany is the final game in the popular Blackwell game series. In it, the title character (along with her spirit guide) are tasked with solving a new mystery. But could it be too much for Blackwell and Mallone to handle?
What is it about?
The Blackwell game series has become something of a phenomenon itself these past few years. Based around the title character, Rosangela Blackwell, a spiritual medium who helps ghosts transition into the afterlife, the games are brilliantly written and are much-loved among iOS gamers.
For those who...
Enjoy point-and-click games.
Adore retro graphics and gameplay.
Not for those who...
Expect console-quality gaming from the App Store.
Why we love it
This is a point-and-click classic that iOS gamers should love. Blackwell has a huge fan base and the final instalment looks set to become an App Store classic.
App Store Description
A dead man's soul cries out against the force of a ferocious blizzard. He cries for help. He cries for answers. Then he screams as he is torn apart like damp tissue paper.

This wasn't the first time, and it won't be the last.

The police are powerless to stop it, so the duty falls to the only ones who can. What force could be so powerful – and so malevolent – that it would destroy the very core of a life in order to get what it wants? Rosa Blackwell and Joey Mallone mean to find out, even if it means risking themselves in the process.

The thrilling final game in the Blackwell series - "Blackwell 1: Legacy," "Blackwell 2: Unbound," "Blackwell 3: Convergence," and "Blackwell 4: Deception."

Rock Paper Shotgun - "It's pretty much the perfect ending, both wrapping up and nailing a series that's been going from strength to strength since it first appeared way back in 2006."

PC Gamer - "The high-point of a consistently strong series, and a great showcase of adventure game design that fits the story's theme." [82%]

Gazebo - "The Blackwell Epiphany powerfully and poetically concludes a game series which has lasted nearly a decade." [4/5]

Indiegames.com - "It nails the tone, raises the stakes, brilliantly concludes the over-arching story and looks better than ever."

RPGFan - "I'm delighted that the final game in the series capitalizes on all that came before and delivers a solid, satisfying ending." [85%]