Bumper Jump and bounce your way back to your flying saucer

Bumper Jump
by Gnarcade LLC
watch trailer
FREE

in the App Store
Your alien friends forgot to beam you up and now you must keep up without falling. Tap to create bumpers that bounce you as high as you can go on this journey through space. Power-ups will help you go even higher, but watch out for planets that may bump you in the wrong direction.
They forgot to beam you back up. Your alien friends forgot to beam you back up, so you have to bounce your way back to them.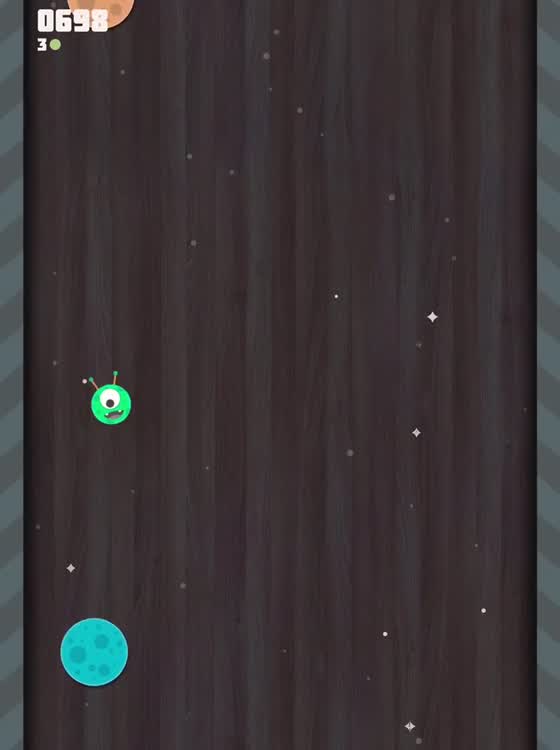 Helpful power-ups. During your voyage upwards, you'll come across power-ups that help you along the way.
Bounce to unlock new aliens. The more bounces you get, the more aliens you can unlock and play as.
What is it about?
Gravity flip, mega bouncer, planet repel, and slow-mo power ups can help you get closer to your buddies. Randomly placed planets make every gameplay unique, and the game gets progressively harder the higher you go. Complete challenges to unlock all of the aliens.
For those who...
Enjoy casual games
Can tap really fast when they need to
Not for those who...
Don't like space games
Want a deep, compelling storyline
Why we love it
Bumper Jump is a cute casual game that you can play just by tapping. It might sound easy, but the game is actually wicked hard to master. It gets progressively more difficult the higher you bounce, especially with planets that can bump you the wrong way. The graphics and sound are very well done, giving this casual game an excellent look and sound.
Bumper Jump is FREE but there are more add-ons
$1.99

Aliens!

$0.99

20 Saves Pack

$2.99

100 Saves Pack

$1.99

50 Saves Pack
App Store Description
Your alien friends forgot to beam you up and now you must keep up without falling. Tap to create bumpers that bounce you as high as you can go on this journey through space. Power-ups will help you go even higher, but watch out for planets that may bump you in the wrong direction.

Features:
- Gravity flip, mega bouncer, planet repel, and slow-mo power-ups
- Randomly placed planets make every gameplay unique
- Progressively harder the higher you go
- Aliens! Complete challenges to unlock them all
- Get saved by your buddies flying a spaceship
- Original soundtrack by Interrabang