What better way to say anything than with cute cat stickers
Cat Stamp! Cute Stickers of Cats
by Copter Labs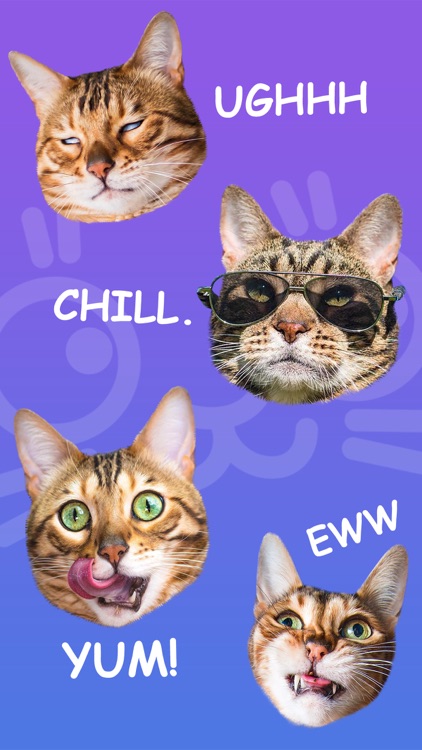 What is it about?
What better way to say anything than with cute cat stickers! Cat Stamp has 24 high quality cat stickers with emotions ranging from happy to grumpy and everything in between.
App Store Description
What better way to say anything than with cute cat stickers! Cat Stamp has 24 high quality cat stickers with emotions ranging from happy to grumpy and everything in between.

To use the app, simply open up iMessage and tap the "app" icon and then drag the stickers on to messages.

These cat stickers are hand-crafted from photos of the finest cats in the world. Marvel at the cat cuteness and share your cat emotions with your friends and loved ones.

Meet the kitties, in order of appearance:

1) Haroun, a rambunctious bengal with a curiosity unmatched amongst his feline brethren.

2) Lupin, a domestic longhair with a killer smile.

3) Turbo, domestic shorthair. This kitty is unfortunately paralyzed from waist down, but definitely holds his own in the snug life.

4) Haroun again, this time getting loud and excited for all his crazy cat nip.

5) Tim, aka Timbo, aka Timbooooooooooooo! A persian with a knack for licking indiscriminantly and singing opera.

6) Haroun again again! Haroun just had lunch.

7) Boop, not your average domestic shorthair kitten. He's just derpin' it at this point.

8) Jean-luc, Cat Stamp's resident domestic shorthair ginger, is piloting the Starship Kitterprise into the deepest unknowns of the galaxy of our hearts.

9) Seymour, america's favorite exotic shorthair, looking shocked after just seeing that which can not be unseen.

10) Timbo again! His human is the developer of this app. He appears twice because favoritism.

11) Una. THE scottish fold. Like seriously, look at that face. Such a punim!

12) Maccha, scottish fold and super famous internet cat. She's leering at you because she knows what you did last summer.

13) Una once more. She also lives with Timbo and the human that does computers. She gets special treatment too :)

14) Finn, a teeny tiny domestic shorthair kitten. Finn's head was cut out from a picture where he was literally in bath bubbles resting in a human's hand.

15) Ray, exotic shorthair extraordinaire. Ray is upset because you didn't like the dead bird she brought you. Shame on you.

16) Haroun... again? Haroun doesn't like the dad joke you just told, hence the world's most epic eye roll.

17) Aragon, a domestic shorthair tabby. Too cool for school with his killer shades.

18) This cat was so angry we didn't ask its name. We knew better.

19) Seamus, a bright orange exotic shorthair. Seamus is judging you. Hard.

20) Pudge, a gloriously patterned-fur exotic shorthair / super duper famous internet cat. Pudge thinks you said something dumb. Pudge lets you know with all the little hairs on her chinny chin chin.

21) Meet Zelda, a tortoiseshell cat. Like a turtle. Only faster.

22) Grendel, a bengal and voted most likely to be a really angry kitty by his high school class, has that perfect sneer only a mother could love.

23) Grendel again, even angrier. Like, how is that possible.

24) And finally Shoyu, a siamese cat that looks like he's about to chomp your fingers off, is actually the gentlest soul in the world (we just caught him sneezing!).

Lastly, all photography is by the infamous Cat Man of Instagram (@iamthegreatwent), Andrew Marttila, and this app was painstakingly stickerfied for your enjoyment by Copter Labs.

Thanks for checking us out and have fun sharing our stickers!
Disclaimer:
AppAdvice does not own this application and only provides images and links contained in the iTunes Search API, to help our users find the best apps to download. If you are the developer of this app and would like your information removed, please send a request to
takedown@appadvice.com
and your information will be removed.