Your go-to source for information and reviews on anything to do with digital currency
Cheddur
by Jon Cursi
watch trailer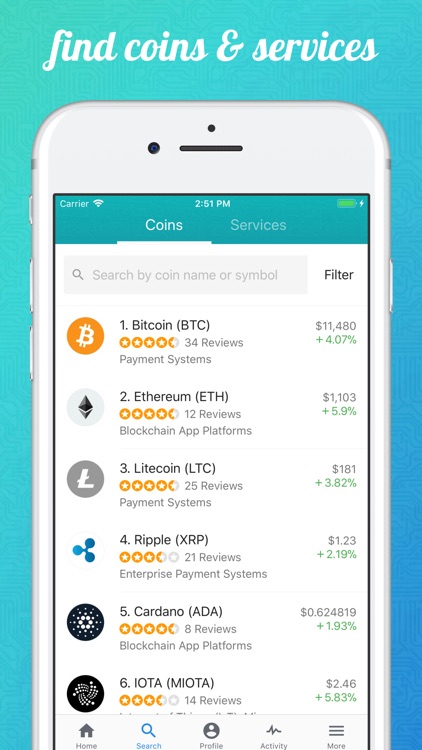 FREE

in the App Store
Digital currency, or cryptocurrency, has grown by leaps and bounds, so it's hard to know what exchanges, coins, and wallets you can trust. Cheddur was built to help you navigate these perilous waters.
A tour of Cheddur. The app allows you to learn about existing, new, and upcoming currencies. It's also a great spot to find reviews of digital wallets, currencies, and more.
Learn the basics. Cheddur includes a tutorial to help you learn the basics of digital currency.
Keep your addresses close at hand. In your profile, you can store all of your public and private wallet addresses, so they're always easy to find.
What is it about?
Cheddur is a full-featured app that helps you learn about various forms of cryptocurrency and the tools that help you use it. You can find a wealth of information, including a tutorial to help you get started.
For those who...
are interested in Bitcoin, Ethereum, or other cryptocurrencies
want an easy way to manage their digital wallet addresses
Not for those who...
don't dabble or trade in digital currencies
prefer longer, more complicated ways of researching digital currencies, wallets, and exchanges
Why we love it
Cheddur not only helps you learn about digital and cryptocurrency and the tools used to manage it, but it also helps you maintain your own profile of wallets and other currency-related information. You can easily add your own various wallet addresses to your profile, and even share them via Facebook, Twitter, or by copying the link. Adding a wallet address is as simple as scanning the QR code, and Cheddur is blazingly fast at that. I actually tried to slow things down to make what was happening more visible, but the app is very powerful and robust. The QR code is scanned and input into your profile in a fraction of a second. Once you have your addresses stored, you can access them at any time. The Copy Address button will transfer your wallet address to your clipboard, so you can input it in a form or email it to someone to pay you.
App Store Description
Cheddur is your personal guide for using digital currencies (also known as "coins" or "cryptocurrencies") and is available for iPhone and iPad.

Whether you're looking for a digital currency that just launched or a digital wallet to safely store your coins, Cheddur is your personal guide to finding the perfect coin or service.

Cheddur features:

Find Coins & Services
* Find the newest and hottest coins and services
* Filter search results by price, reviews, general features, technical features, and more

Learn
* New to digital currency? No problem! Learn the basics in just 1 minute
* Learn what makes a coin or service stand out from the rest through a short video or description
* Compare coins side-by-side to visually see the differences

Get Started
* Get started with any coin by understanding how to buy, sell, store, send, and receive it
* Get started with any service through a direct link to its website or mobile app

Coin Addresses
* Share your coin addresses with friends, family, and followers
* Use your coin addresses to start receiving tips, payments, and donations in digital currency

Reviews
* Read expert reviews from the Cheddur community to help you pick the right coin or service
* Write reviews to let other users know about your experience

Other Features
* Add coins to your watchlist to keep tabs on the price
* Submit edits to any coin or service page if you find information that is missing or out-of-date
* Submit new coins and services in case we missed something :)

Get started with any digital currency today with Cheddur!

Need help? Contact us at http://www.cheddur.com/support/contact