*** Winner of a Parents' Choice Gold Award
Chess Academy for Kids by Geek Kids
by Next is Great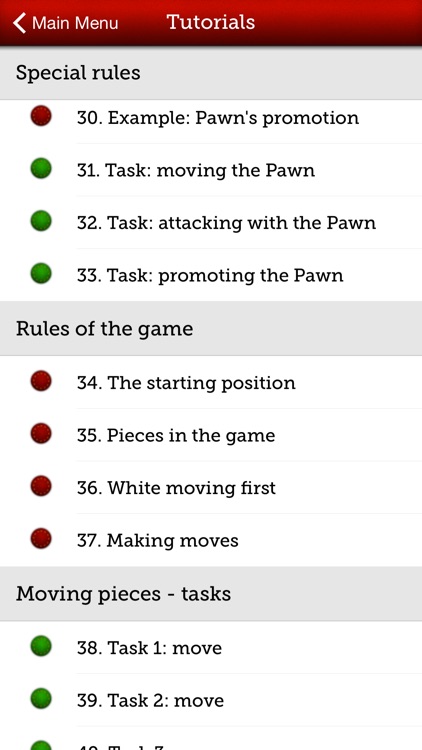 What is it about?
*** Winner of a Parents' Choice Gold Award
For those who...
It's the ideal tool for children ages eight and above to teach themselves chess.
Not for those who...
While the tutorials are rock solid, they don't act as a full blown tutor. It's more of an introduction to the game.
Why we love it
The game of chess offers all kinds of learning opportunities, so if you have a child with an open mind, go ahead and introduce them to the game with Chess Academy. The progress tracking will motivate and push them to be the best they can be.
App Store Description
*** Winner of a Parents' Choice Gold Award
*** FEATURED BY APPLE in the "NEW & NOTEWORTHY " section of the iTunes App Store!

Chess Academy for Kids offers an easy introduction to chess.  
*** 140 tutorials & challenges created with children in mind
*** Learn basic moves & strategy (pieces' values, openings, etc.)
*** Challenge your friends & parents
*** Play chess against the computer
*** Enjoy the rewarding progress tracker
*** HOURS OF FUN AND LEARNING *** 
 
_______________________________________________

"I really liked Chess Academy for Kids. It may not be as thorough as an instructional book or chess tutor, but it definitely gives enough to get you started, and holds your hand along the way. Plus the app is very attractive, and is a great chess playing app even for people who already know how to play the game."
-- Wired.com / Geek Dad

"What you have is a great classic game brought to the modern devices(iPhone and iPad), that is easy to learn, kid friendly, and good for the family — sounds pretty good to me."
-- Crazy Mike's Apps

"Chess Academy for Kids is a top learning app for kids five and older… and grown up curious to know how to play chess. It is easy to use, kids friendly and offers a very engaging and interactive interface... a new Fun Educational Apps - TOP PICKS!"
-- Fun Educational Apps
______________________________________________

Chess Academy for Kids is an excellent iPhone and iPad application offering an easy introduction to chess, created with children in mind. The app is designed to teach chess in an engaging, step-by-step, rewarding way, where learning is well balanced with practice.  

The app is a tool for older children aged 8+ to teach themselves the rules and basic strategies of chess, as well as for younger children aged 5+ to start out on a chess adventure with adult help.

The application consists of two modules:
- Chess tutorials, which include theory, examples and tasks for beginners,
- A 1v1 game mode (play against friends or computer!)

Chess tutorials include 140 interactive tasks that explain and demonstrate in practice: 
- rules
- pieces'values and moves
- game opening
- checkmate
- double check

The game mode has a nicely designed chequerboard and pieces, with a comprehensive and user-friendly dashboard, allowing children to easily "navigate" through the app and change settings. Additionally, Chess Academy for Kids is equipped with a user-friendly progress tracking bar, which is comprehensive and motivating for young users.

Chess Academy can be played only in portrait position.

We take children's privacy very seriously:
* we do not collect or share any data
* the app doesn't contain any adds
* the app doesn't contain any in-app purchase
* the app doesn't contain any social media buttons nor social media integration
* the app contains external links to our other apps