Guide the cute little creatures home in this fun puzzler.
Chipmunks' Trouble — funny puzzle
by Egor Nemov
watch trailer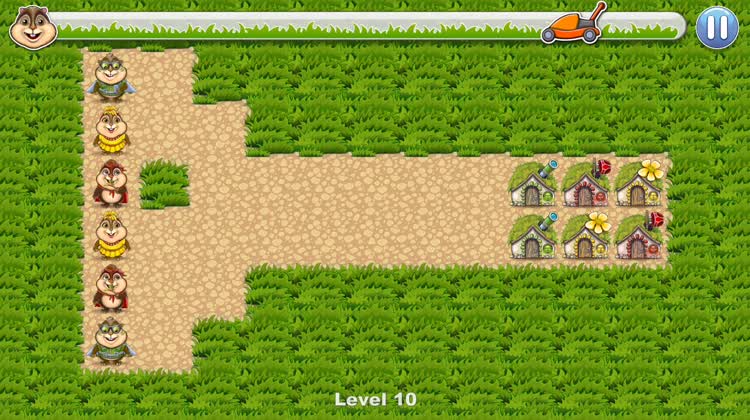 FREE

in the App Store
In Chipmunks' Trouble just swipe to move the chipmunks. Your goal is to get each chipmunk to its correctly-colored home. The game has 100 levels and three unique locations.
It gets puzzling. The game starts simple, but soon you will find your chipmunks in puzzling situations. You may need to move some out of the way in order to get others to the correct house. While your moves are not limited, your time is, so keep an eye on the lawn mower at the top showing how much time you have left.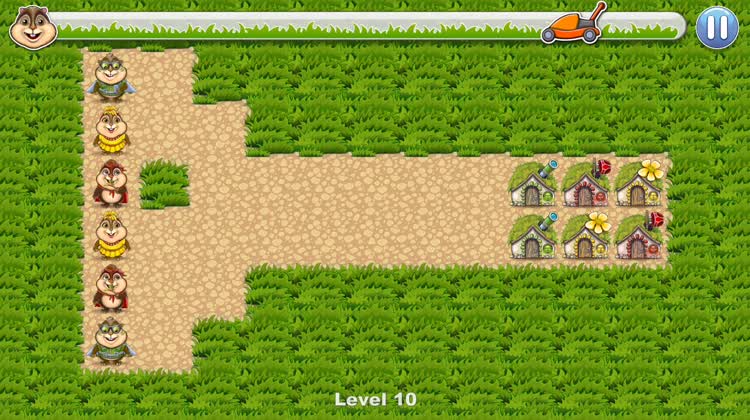 Guide the chipmunks home. Each of the four chipmunks needs your help to get home. Just swipe to guide the chipmunk dressed in blue to the blue house and the one in yellow to the yellow house, and so on. Swipe in whichever direction necessary to roll those chipmunks to their goals.
Tons of fun levels. The game has 100 levels for you to roll through that include three unique locations. You will move from a cute country house to a winter wonderland to the driest of deserts on your journey. Each level contains surprises and new obstacles, so see if you can tackle them all.
What is it about?
Chipmunks' Trouble is a fun puzzler with colorful graphics and bubbly music. You will need your puzzle-solving skills, however, when the levels become more difficult. So, plan your paths, prepare to roll, and watch out for the lawn mowing time keeper.
For those who...
Enjoy puzzle games
Like upbeat themed games
Not for those who...
Dislike puzzle games
Prefer serious story themed games
Why we love it
chipmunk to its correctly-colored home. There are dangers lurking ready to capture your furry little friends, so roll them home to safety.
App Store Description
An addictive puzzle, that will make you strain your brain! At first glance, you may think it's easy. However, as you progress, tasks become more and more challenging. Will you take a chance to try the adventures?

GAMEPLAY
There are four pretty chipmunks, who have big problems: a freaky mischievous guy, a charming gentleman, a technician geek and (this world wouldn't exist without girls!) a shy, fashionable girl. A nice company!

Your mission in this puzzle is to protect the innocent creatures, who got caught by a twist of fate up to their tails. A dotard, wild fauna chasers and a ruthless sand storm ready to swallow our fluffy friends – these are just a few of numerous troubles they will face!

Help our buddies find their way home and find out what will be the upshot of it all.

FEAUTURES
* 4 charismatic creatures to operate
* 3 unique locations
* 100 different levels
* Intriguing storyline
* Localized to 11 languages