Get the feel of weather at a single glance
ClearWeather — Color Forecast
by Joseph Denne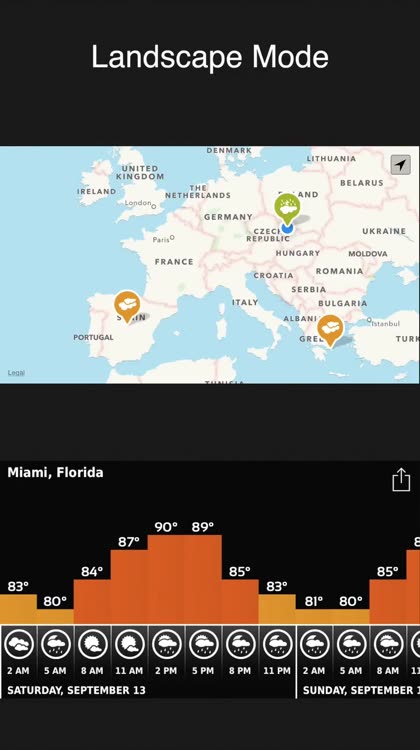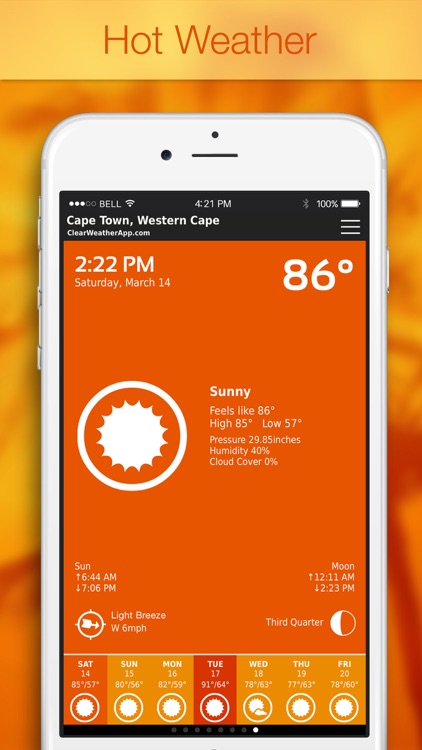 What is it about?
Get the feel of weather at a single glance! ClearWeather is the only app that shows you temperature by color so you don't even need to read the forecast! Plus enjoy a clear and intuitive interface—just one swipe up or down for more details.
For those who...
It's for those who simply want to glance to check the weather.
Not for those who...
The one thing ClearWeather lacks is radar data. If you prefer to have a radar built into your weather app, you're going to have to look elsewhere.
Why we love it
If all you want is the forecast, get ClearWeather. Sure, it includes all kinds of other data, but having your entire forecast color coded will save you precious time.
App Store Description
Get the feel of weather at a single glance! ClearWeather is the only app that shows you temperature by color so you don't even need to read the forecast! Plus enjoy a clear and intuitive interface—just one swipe up or down for more details.

• Elegant and clear interface
• Current weather, 24-hour forecast, and 7-day forecast—all are easy to read, thanks to temperatures being displayed by color
• Support for Celsius and Fahrenheit (as well as kph and mph for wind speed)
• Displays local time with locations—no need to use two apps for weather and time
• Weather forecast on the map (rotate the screen to show)
• Forecast time line (rotate the screen to show)
• All weather info you might need: Wind direction and speed info, humidity, precipitation, and pressure
• Sunrise/Sunset, Moonrise/Moonset, and Moon phases info built-in
• iPhone5 ready (takes full advantage of the new big screen)
• Share your weather conditions on Facebook or Twitter

◆ Video: http://bit.ly/clearweather ◆

TIPS
• Swipe horizontally to navigate between locations.

• Swipe vertically to change between Current Weather, 24-hour forecast, and 7-day forecast
• Swipe left on a location to delete it in the Locations screen
• Long-press anywhere on the screen to show (or hide) the toolbar.



••• URL Scheme support •••
To launch ClearWeather application, use this URLs:
clearweather:
clearweather://today
clearweather://forecast24h
clearweather://forecast7d

We are working hard on our next version! More features coming soon! Thanks for your patience!

Please write to us before leaving negative reviews, as we can often help with your problem or help you better use this app.

If you have any problems or suggestions please send a mail to [email protected], you'll get a response in a short time.

Check out our other apps

The Big Beet Fairytale – A painted fairytale for the youngest children
Selfie Lock Screen – Bring your lock screen to life with selfies!
Star Quotes – Every day you see another corner of the universe in 3D
Star Collector – Collect as many stars as you can, before the countdown bar runs out!

If you like it, please review it on the app store or give us a star rating.

Please find us at:
creativefingrs.com