Introducing COMPLETE ORTHO: Patient education, engagement, and empowerment for better healthcare and treatment outcomes
Complete Ortho
by 3D4Medical.com, LLC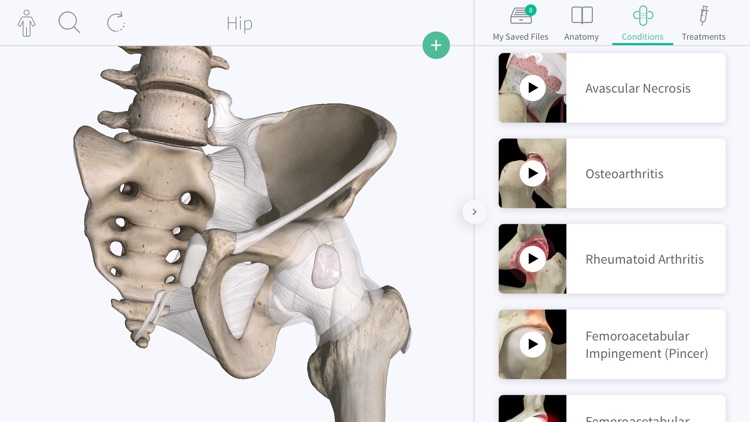 What is it about?
Introducing COMPLETE ORTHO: Patient education, engagement, and empowerment for better healthcare and treatment outcomes.
App Details
Last updated
June 10, 2017
Complete Ortho is FREE but there are more add-ons
$0.99

Base of Thumb Osteoarthritis

$0.99

Cervical Degenerative Disc Disease

$0.99

Epidural Injection

$0.99

Cervical Spondylosis

$0.99

Ulnar Impaction Syndrome

$0.99

Carpal Tunnel Syndrome

$0.99

Lumbar Muscle Spasm

$0.99

Lumbar Spondylosis

$0.99

Lumbar Herniated Disc

$0.99

SLAP Tear (Type 1)
App Store Description
Introducing COMPLETE ORTHO: Patient education, engagement, and empowerment for better healthcare and treatment outcomes.

Take control of your healthcare and empower yourself with COMPLETE ORTHO, a revolutionary new tool to increase your understanding of your care options and facilitate better communication with your practitioner. Unlock a deeper understanding of your anatomy, condition and treatment with easy to use interactive 3D models and animations.

Healthcare Professional? COMPLETE ORTHO PRO and our Smart Technology will set your practice apart and help keep your consultation fresh in your patient's mind. Choose from a selection of key screenshots and videos generated in the consultation, add reading material to create a customized digital consultation for your patient, then email it right to their pocket!

COMPLETE ORTHO - CONSUMER *** FREE for a LIMITED TIME***

NO EXPERIENCE REQUIRED: Access anatomically accurate information from the comfort of your own home. COMPLETE ORTHO allows you to learn more about your healthcare in an approachable and convenient way. View highly detailed videos about your condition, then discover more about affected structures using the stunning 3D model.

COMPLETE ORTHO includes access to an extensive video library of orthopedic conditions, that cover how they impact the body during the stages of their development.

ALREADY DIAGNOSED?: Preview your treatment ahead of surgery using state-of-the-art animations, and share with friends or family.

A PICTURE PAINTS A THOUSAND WORDS: Smart Technology displays a list of the relevant body structures for each animation: tap on a link to view that body area on our highly detailed, anatomically-accurate 3D model. Save files to show your healthcare practitioner for further discussion and to help them curate a Digital Consultation, tailored specifically for you.

COMPLETE ORTHO – PRO for FASTER, MORE EFFECTIVE CONSULTATIONS! ***FREE TRIAL***

SIMPLE SHARING: COMPLETE ORTHO gives practitioners an easy way to compile and send a detailed, customized Digital Consultation to their patients.

EASILY BUILT CONSULTATIONS: Choose a Body Region and relevant view. Press on the 3D model to reveal the name of a structure, along with extra information. Use muscle motion to show your patient how their muscles move in 3D.

EXPERT TOOLS: Manipulate the model with cut, fracture and spurs tools or identify specific areas using the draw, text or import image features.

SELECT WHAT TO SHARE: All key interactions with the model are captured automatically and presented in the Consultation Summary. Select relevant pathology and procedure videos, model views and relevant reading material.

PRE-CONSENT FORMS: An opportunity for your patient to immediately agree to proceed with next steps in their care, or packaged as part of their tailored summary, for reading and signing at home.

SEND THEIR CONSULTATION RIGHT TO THEIR POCKET: Enter a patient's email address and send them the full collection of resources from their consultation. They receives a secure link and Pin, branded with your company logo, to later recap on the details of their consultation.

FOR THEIR EYES ONLY: We've ensured that our servers are HIPAA compliant, guaranteeing security for all users.

JOINT DECISION MAKING: Patients can review their Digital Consultation at their leisure, while practitioners can verify their patients' understanding of the information.

REVIEW ON THEIR OWN TIME: Your patient is free to review their Digital Consultation at their leisure. At each review stage, your patient is asked to confirm that they have read and understood the information, enabling better decision-making.

GET FEEDBACK AND FOLLOW PATIENT PROGRESS: An online Web Dashboard allows you to track when a patient opens, reads, and confirms their understanding of the Digital Consultation provided. At a glance at the color-coded notification system give you an instant status.