A simple way to find recipes and bake show-stopping cookies.
Cookie Recipes: Betty Crocker The Big Book of Series
by gWhiz, LLC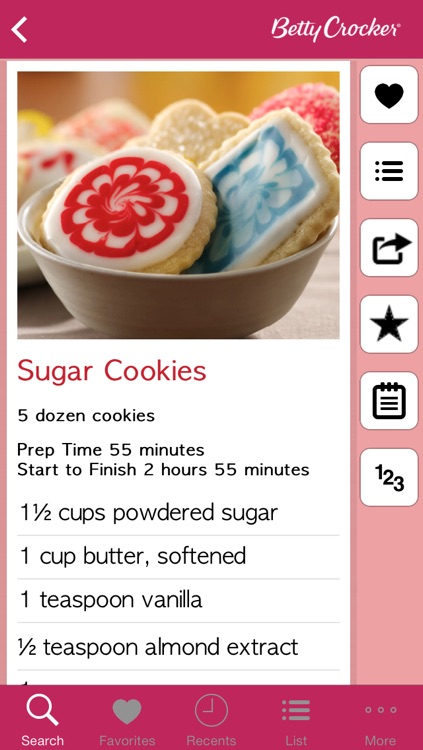 FREE

in the App Store
An innovative and endlessly useful app, which contains mouth-watering cookie recipes. This must-have kitchen tool takes you from planning to shopping to baking to decorating, all with amazing results.
What is it about?
This app contains more than 180 spectacular recipes, ranging from simple drop cookies and bars to shaped and decorated delights perfect for gift giving.
For those who...
Love cookies and are looking for delicious recipes.
Not for those who...
Want it all for free. You get 10 recipes with the download. The rest are available through an in app purchase.
Why we love it
There are so many cookie recipes to be found here. Everyone is sure to find inspiration for their next favorite cookie. With so many features, including a shopping list and social integration, this is a must have for any baker.
Cookie Recipes is FREE but there are more add-ons
App Store Description
Itching to make a batch of delicious, creative, fun cookies for any occasion? Look no further than Betty Crocker, a name synonymous with easy, spectacular baking! With this innovative and endlessly useful app, which contains every mouth-watering recipe from the book The Big Book of Cookies, it's never been simpler to find recipes and bake show-stopping cookies. Enjoy access to ten recipes you choose with the free initial download, with access to more than 180 recipes available via in-app purchase.

This must-have kitchen tool takes you from planning to shopping to baking to decorating, all with amazing results.

Here's what you'll find in this one-of-a-kind app:

· More than 180 spectacular recipes, ranging from simple drop cookies and bars to shaped and decorated delights perfect for gift giving

· Easy search capabilities that let you search by category of cookie or by keyword, and an extended idea board that lets you find inspiration by ingredient, type, or a combination

· Both full-recipe and step-by-step mode, allowing you to bake from the app in whatever way works best for you

· A special sort feature that ranks categories by rating, total time -- and even calories

· Shopping lists by recipe that you can edit to remove items you already have and add more items that you need at the grocery store

· Sharing capabilities that enable you to share shopping lists and great recipes on Facebook, Twitter, or over email

· Community ratings for each recipe – be sure to add your feedback!

· Ability to record favorite recipes and identify those recently viewed

· iCloud integration keeps your Favorites and Shopping List in sync between your iPad and iPhone

· Tips for making perfect cookies and secrets for baking success – every time

· Many extras including a metric conversion chart, full-color recipe slideshow, and more

Have a question or would like to share your feedback? Please send us an email at [email protected]