A custom keyboard maker with sounds, colors, and emoji
Custom Keyboard - Skins Maker and Color Themes
by 2012 G-Power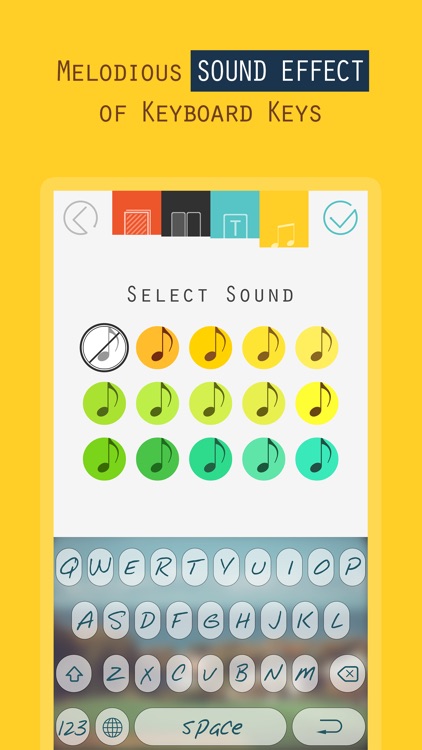 Removed

from the App Store
Custom Keyboard allows you plenty of options for creating your own replacement for the default iOS keyboard. You can change the color and shape of the keys, the font used on each letter, and even the sounds made as you type. The app also includes a great collection of emoji for your expressions.
What is it about?
Custom Keyboard is more than just a third-party replacement for the default iOS option. It's actually a virtually unlimited number of keyboards, allowing you to create your own unique version. The app allows you to change the background color behind the keyboard, using solid colors, gradients, or even photographs. You can also adjust the shape of the keys, and what typography is used to show the letters. Custom Keyboard is a complete replacement for your iOS keyboard, even including its own emoji to help express yourself.
For those who...
Love creating their own keyboards
Are bored with other keyboards available
Want to express themselves through their keyboard
Not for those who...
Are happy with their keyboard
Don't like pretty colors
Don't care for custom emoji
Why we love it
This is one of the most complete keyboard skin creators available. It has a great interface, easy-to-use controls, and plenty of options. You can even set a wallpaper for your keyboard, which is a nice addition. We also love the fact that you can set custom sounds for the keyboard clicks, and the included emoji are adorable.
Custom Keyboard is FREE but there are more add-ons
$1.99

Pro Version

$0.99

'Bebe' Stickers

$0.99

'Q Cat' Stickers

$0.99

Camera Girl' Stickers

$0.99

'Camera Man' Stickers
App Store Description
Customize your personal Color Keyboard Since New iOS 8!

Bored with iPhone, iPad's default Keyboard? Custom Keyboard lets you design your own color keyboard since iOS 8. You can change the background color, key corner, border, font and sound of keyboard. Support Autocorrect and Predictive. Emojis and Stickers are also included!

---- What users say:

***** Amazing art and design by Jacob 323

***** This keyboard app is really cool and was what I was looking for by Lil;)#selfi

***** love the app it's so amazingly awesome and I really really really do absolutely LOVE it!! Thank u so much for making this app!! by (=Paige=)

***** This is an awsome app because it has what u need and what u can create my opinion is that this game is awsome by Calusarauf

***** THIS IS SOOO COOL YOU CAN USE YOUR OWN PICS AND IT HAS THESE CUTE EMOJIS PLEASE GET THIS by Nikkibridget
----

Features:
- Over 25 pure colors, 15 gradient colors and 15 pattens for keyboard background.
- Use Photos as keyboard background. Many photo effects can be used to background.
- Lots of corner styles, border styles and transparency effects are used to keyboard keys.
- Over 15 Fonts, 20+ colors for Keys.
- Over 15+ Sound effects for personal keyboard.
- Default Emoji keyboard is included.
- 3 sets of stickers: 'Camera Man', 'Camera Girl' and 'Be Be'
- Fully support iPhone 6 and iPhone 6 plus
- Compatible with iPhone, iPad, and iPod touch

JUST 2 STEPS TO CUSTOMIZE YOUR KEYBOARD:
1. Design your keyboard in App.
2. Go to 'Settings'- 'Keyboard', add 'English - Keyboard Skin' keyboard
Enjoy your custom keyboard!

Please note that this app is only compatible on iOS 8 devices and later. If you have any question with 'Custom Keyboard', please feel free to contact: [email protected]