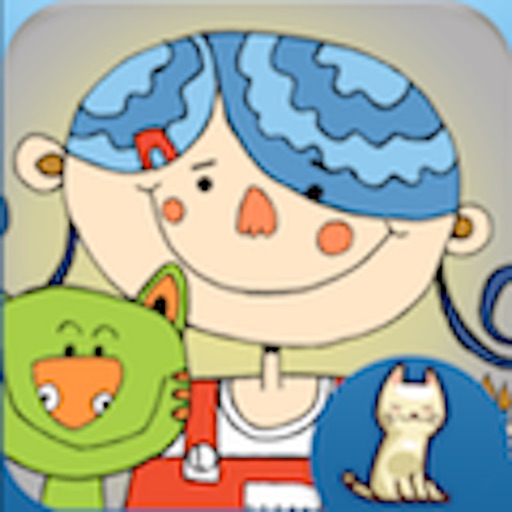 حلم نادية
نادية
by EduKitten Ltd
What is it about?
حلم نادية
App Store Description
حلم نادية

نادية طفلة صغيرة تحب الرسم وتتمنى أن تصبح رسامة، وتروى قصتها من خلال هذا التطبيق الممتع والمفيد، الذى يحتوى على قصة قبل النوم، وكذلك عدد من الألعاب، منها لعبة الاختلافات، ولعبة التلوين، والأحاجى، وكذلك فيديو ممتع للأطفال.

والقصة هي النسخة الألكترونية من كتاب ورقي مطبوع يحمل اسم "أنا نادية وأتمنى أن أكون رسامة". وهو يعد بذلك من أوائل كتب الأطفال العربية الورقية التي لها نظيرا ألكترونيا.

ويتميز التطبيق بكونه تعليميا، وفي الوقت نفسه ممتعا، فهو كتاب تفاعلي متعدد الصفحات، وفي نهايته عددا من الألعاب الممتعة والمحفزة للخيال.

القصة من تأليف سمر طاهر، التى تقص علينا حكاية الطفلة نادية وأسبابها الخاصة جدا لحب الرسم والألوان، وحلمها بإن تصبح "رسامة"، مع صور وخلفيات زاهية الألوان بريشة الفنان محمد طه، كما تتميز القصة بخاصية التفاعل من خلال لمس الشخصيات والأشياء.


يحتوى تطبيق "نادية" على:
-لعبة الاختلافات التى تختبر قوة ملاحظة الطفل، وتساعده في التدقيق فى التفاصيل.
-لعبة التلوين مع إضافة ملصقات لأغراض نادية المفضلة.
-اﻷحجية، وهي لعبة مقسمة إلى ثلاثة مستويات: 6 قطع – 9 قطع – 12 قطعة، من صور خلفيات التطبيق.


أما قسم القراءة، أو الكتاب نفسه، فهو يعطي اختيارين، الاختيار الأول هو "اقرأ لى"، الذى يتيح سماع الكتاب كقصة مسموعة بأداء صوتي واضح باللغة العربية الفصحى، وهو مناسب للأطفال الصغار بمرحلة ما قبل المدرسة.
والاختيار الثاني هو "أقرأ بنفسى"، ويتيح للطفل تقليب الصفحات والقراءه بدون مساعدة.



مع تطبيق "نادية" سيستمتع الطفل برحلة تعليمية مرحة وشيقة ومختلفة للغاية.





Nadia
Nadia is a little girl who tells her story through this application that contains a bedtime story with read-on-my-own feature, spot the differences game, coloring game, and puzzles.

The story is written by Samar Taher who tells Nadia's story and dream, featuring colorful illustrations by Mohamed Taha, and backgrounds with interaction features.

"Nadia" is considered the electronic version of a published book with the same name.

"Nadia" contains:

-Spot the differences game that challenges your child's attention to details.

-A clear narration of the story performed by professional narrators.

-A coloring game with the ability to add stickers from Nadia's favorite items collection.

-The puzzles, which are divided into three levels: 6-piece, 8-piece, and 12-piece puzzles, using the background pictures from the application.

-The reading section is split into two parts: "Read for me" for pre-scholars; "Read on my own" allows kids to interact with objects while reading.

Introduce your children to "Nadia" to take them on fun educational adventure.
Disclaimer:
AppAdvice does not own this application and only provides images and links contained in the iTunes Search API, to help our users find the best apps to download. If you are the developer of this app and would like your information removed, please send a request to
[email protected]
and your information will be removed.