Avoid overage charges and take control of your data plan

Data Counter - Universal Data Usage Monitor
by Slybees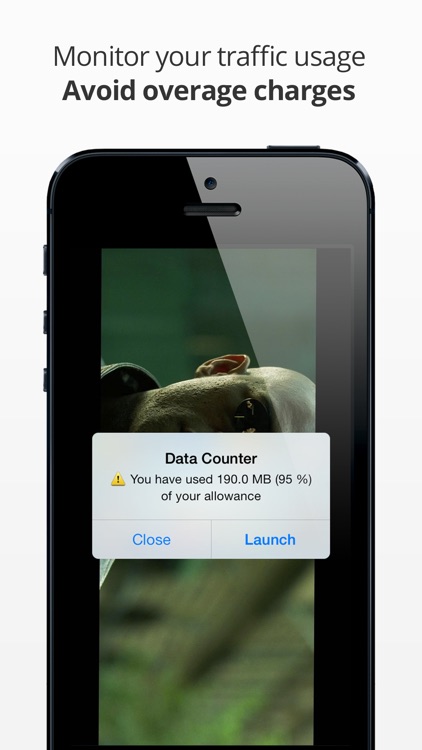 What is it about?
Avoid overage charges and take control of your data plan.
For those who...
It's ideal for iOS 8 users who have a limited data plan.
Not for those who...
The only reason not to give this one a try is if you're on an unlimited data plan.
Why we love it
If you're running iOS 8, Data Counter will come in handy. Its iOS 8 widget allows you to simply glance at Notification Center to view your data usage.
App Store Description
Avoid overage charges and take control of your data plan.
Data Counter is the most powerful and immediate means of verifying your internet volume usage, compatible with all providers in the world!

1.000.000 DOWNLOADS ALL OVER THE WORLD

"If you don't have an unlimited data plan, this app is a gold mine thanks to the money it helps you save"
4.5/5 - theiphoneappreview.com

Nowadays no mobile phone provider offers a completely unlimited data plan. For this reason, many users are afraid of exceeding their daily, weekly or monthly limit, costing them further charges or a huge reduction in internet browsing speed. Data Counter is the most convenient and instant way to avoid this danger!

• Universal
Data Counter works with all providers as it recovers the necessary information straight from the device, not from the mobile portal.
It supports daily, weekly, monthly and bimonthly plans.

• Fast
Set up your plan and launch the app to see your cellular data usage and Wifi. Compatible with 3G and LTE networks.

• Functional
No connection necessary. The program can be used even when you're not connected to the network since it doesn't need any information from the internet. This saves data that would have been used to get the information from the mobile portal (a few megabytes).

• Up-to-date
Mobile provider portals are not updated in real time. Data Counter, using the data info generated from the device, is always precise and up-to-date.

Also available for you...
• Background monitor to record data usage even in the background.
• Continued monitoring with immediate 10 minute reports after closing the app.
• Download speed indicator in Wifi
• Day by day record of internet volume usage
• Maximum security, no VPN and no proxy.
• Clear and instant graphics, optimized for all iPhone and iPad models

******************************************************
Wifi only is available on iPod Touch and iPad Wifi.
Don't hesitate to contact us with any problems or suggestions! [email protected]