Debt Strategy helps you identify the best payoff strategy in order to pay down your debts fast
Debt Strategy
by Anishu, Inc.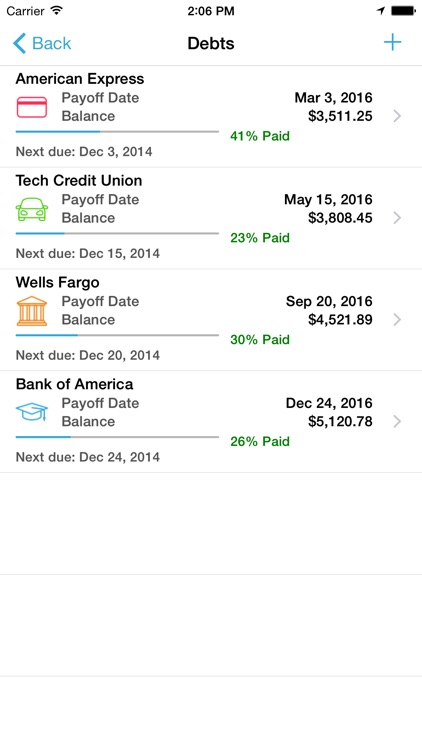 $0.99

in the App Store
This finance app will help you identify the best way to pay down and pay off your debts.
What is it about?
Debt Strategy helps you identify the best payoff strategy in order to pay down your debts fast. It also helps you track and pay off your debts, and execute on the strategy you choose. After entering your debts in the application, you can analyze how the choice of payment strategy or different extra amounts helps you pay off your debts sooner, and save on the total interest paid. Debt Strategy supports multiple strategies such as:
For those who...
It's ideal for anyone with financial burden.
Not for those who...
The app can be a tad inflexible, especially if you have or intend to have a low minimum payment.
Why we love it
If debt has you down, give Debt Strategy a try. There's nothing to lose since it's a totally free service, and if anything it will help shine a light on your path out of debt.
App Store Description
Debt Strategy helps you identify the best payoff strategy in order to pay down your debts fast. It also helps you track and pay off your debts, and execute on the strategy you choose. After entering your debts in the application, you can analyze how the choice of payment strategy or different extra amounts helps you pay off your debts sooner, and save on the total interest paid. Debt Strategy supports multiple strategies such as:

- Minimum Payments Only
- Lowest Balances First, with rollover of payments from paid off loans
- Highest Interest Rate First, with rollover of payments from paid off loans

Debt Strategy helps you to take control of your debts. Pick one debt, either one with the lowest balance or one with the highest interest rate, and focus on paying it off first by paying a little more than the minimum. This will shave months off your debt. With your other debts, continue paying just the minimum. After you finish paying off the first debt, move on to the 2nd debt per your strategy. Roll over the amount you paid each month from your first debt to pay off this one. You will pay off the second debt even more quickly. Continue this strategy until all your debts are paid.

Features:

- Ability to enter debts and track debts.
- Ability to identify the best pay-off strategy, and perform what-if analysis with different additional amounts and pay-off strategies
- Graphical view of how the debts will be paid off
- Pie/Bar charts for debt break down by category, or remaining balance
- Monthly payment schedule for each debt
- Ability to enter payments during the life of the loan, and accurately track remaining balances
- Payment reminders so you can make your payments on time
- Ability to override the home currency
- Option to email a report
- Password protection