Take Pride in Your iMessages
Disney Stickers: The Lion King
by Disney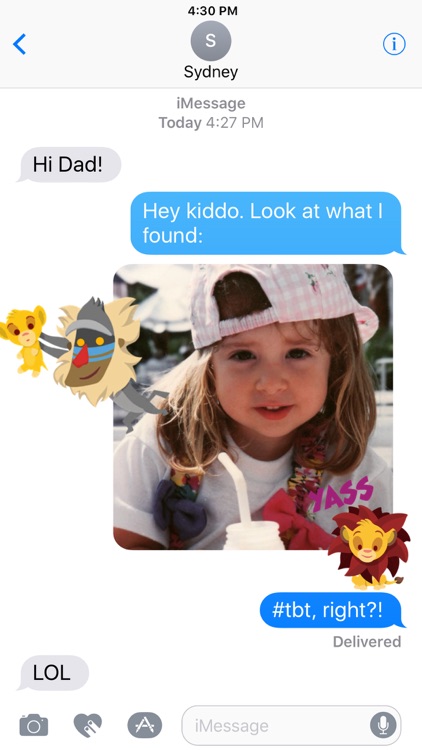 $1.99

in the App Store
Impress your friends with The Lion King sticker pack that includes characters like Simba, Nala, Pumbaa, and Timon.
What is it about?
Disney Stickers: The Lion King offers dynamic and animated creations that you can put anywhere in your chat. Scale, rotate and layer these stickers whenever you want.
For those who...
Love Simba and his friends
Consider "The Lion King" the best animated film
Not for those who...
Disney?
Not into cartoons
Why we love it
"The Lion King" is one of the best animated films in the history of cinema.
App Store Description
Disney Stickers: The Lion King

Make your iMessages roar with this Lion King sticker pack that includes iconic characters like Simba, Nala, Pumbaa, and Timon.

Quick tips on installing and using Sticker apps:
• To access iMessage apps, tap the App Store icon alongside the compose field to see your most recently used iMessage app.
• To continue browsing, tap the icon on the lower left corner which brings up the app drawer. From there, tap the plus icon to access the App Store for iMessage, where you can browse and download more apps. Here, you can also go to Manage where you can add your apps to your app drawer.
• To use a sticker within a conversation, you simply tap to send or you can touch and hold to place them on top of bubbles, other Stickers, or even photos. It feels just like peeling and pasting a traditional sticker.
• iPhone and iPad users (running iOS 10) and Apple Watch owners (running watchOS 3) can receive stickers. On Apple Watch, you can send any of the stickers you recently sent from iPhone or iPad. You can receive stickers on earlier versions of iOS and other platforms but they're received inline as images and don't support being pasted on top of text, photos etc.

Express yourself in new ways with dynamic and animated Disney Stickers you can put anywhere in your chat. Scale, rotate, and layer stickers—even place them on photos you send and receive! Discover all our sticker packs in the iMessage App Store including Disney's Beauty and the Beast, Pixar's Finding Dory, and more. Use Disney Stickers to add magic to your iMessages!

• SEND dynamic and animated stickers in chat
• PLACE stickers anywhere on your iMessages
• CUSTOMIZE your photos with stickers in chat
• LAYER stickers over each other, in chat, and on photos
• SCALE & ROTATE stickers

Stickers include:
• Simba - Happy
• Rafiki and Simba - Celebrate
• Timon - Dance
• Pumbaa - Sad
• Rafiki - Calm
• Scar - Angry
• Simba and Nala - Love
• Zazu - No
• Ed - Laugh
• Simba - Yes
• Pumbaa - Hungry
• Pumbaa - Sleep
• Nala - Roar
• Scar - Annoyed
• Timon - Wave
• Banzai - OMG
• Accessory - Bugs
• Accessory - Hakuna Matata
• Accessory - Simba Sketch
• Accessory - Simba's Mane
• Accessory - Sun

Privacy Policy - https://disneyprivacycenter.com
Terms of Use - https://disneytermsofuse.com