Get food delivered faster than you can eat it
DoorDash - Food Delivery
by DoorDash, Inc.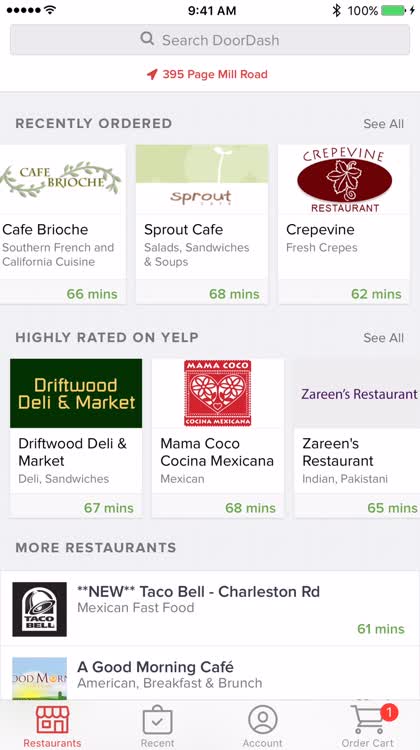 FREE

in the App Store
DoorDash is a simple and fun food delivery app that takes a more visual approach to things. Use the unique "Delight" score to get recommendations over time, since it gets better as you order through the app more and rate your orders. It's fast and simple to use, and you'll get your food in under an hour.
Find A Restaurant. Browse the restaurants you most often frequent, or view the highest rated places on Yelp. If none of those strike you, you can see an alphabetically arranged list. Either way, you're surrounded by some tasty restaurants and this app lets you check out what is delivering near you. Don't go hungry at the office again!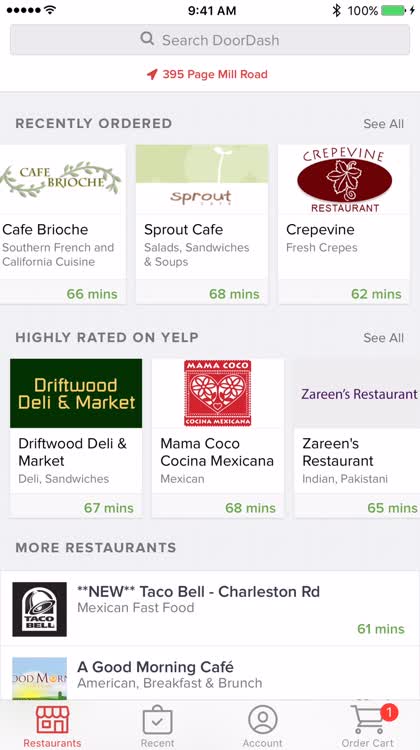 What's Your Fancy? Browse the menu, pick an item, customize your order, then add to cart for quick delivery. No matter what you're craving, there is going to be a restaurant near you that delivers what you want through DoorDash, so you can satisfy your cravings without ever leaving the home or office. Just keep doing what you're doing and let the food come to you instead.
What is it about?
DoorDash is a slick little app that takes pride in the process of getting the order cooked fresh, ready, and out the door to you. The app itself is rather beautiful and simple to use, and works in select cities of the United States and Canada, including: Atlanta, Bellevue, Boston, Brooklyn, Charlotte, Chicago, Dallas, Denver, Houston, Indianapolis, Los Angeles, Manhattan, Minneapolis, Orange County, Phoenix, San Diego, San Francisco, San Jose, Seattle, Silicon Valley, St. Paul, Toronto, and Vancouver. Browse visual menus, find what you want to eat, and place your order. The visuals in DoorDash make it easy to find your favorites or even try something new. DoorDash also has a unique "Delight" score that factors in several different elements, such as food, delivery, and popularity quality of a dish to give you an estimated delight level. The more you order, the better this algorithm gets.
For those who...
Like to try new things
Want fast delivery
Not for those who...
Don't care to try new things
Don't care about how fast they get their food
Why we love it
It's beautiful and easy to use, and the visual approach is wonderful. Plus you can get great recommendations as you use the app more, so you try new things you would have never tried before.
App Store Description
Food delivery to your door from the widest selection of restaurants near you. Browse more than 40,000+ menus of your favorite restaurants across 450+ cities in the US and Canada. New restaurant menus and delivery locations added daily!

***KEY FEATURES***
- Delivery Tracking: Order and delivery tracking at your fingertips.
- Quick Reordering: Use the easy to use reordering system to get your favorite restaurant delivered faster!
- Schedule Deliveries: Advanced ordering allows you to schedule food deliveries when it's most convenient for you.
- Address Book: Conveniently save your most frequently used delivery addresses.
- No Ordering Minimums! Order as little or as much as you want.
- Conveniently pay via Apple Pay or Credit Card.
- Best in class customer support. 100% satisfaction guaranteed.

THE ONLY APP FOR EVERY APPETITE
At DoorDash, we're working to connect more businesses to more people. We strive to keep things simple by delivering food to you wherever you are - while continually improving on our best in class reliability, growing restaurant selection, and the lowest prices. Get breakfast, lunch and/or dinner conveniently delivered to you!

From food quality to prep-times to traffic to weather, we've innovated a groundbreaking approach to food delivery that factors in all the elements that come between you and your food. We're delivering on a promise to get every order through the chaos and straight to your door.

FOOD AT THE SPEED OF LIFE
Whether you're pulling up your favorite place or looking for a new local flavor, our app delivers from restaurants near you in less than an hour.

Currently serving over 450+ cities in 35 markets in the US and Canada including: Atlanta, Austin, Bellevue, Boston, Brooklyn, Charlotte, Chicago, Columbus, Dallas, Denver, Fort Worth, Houston, Indianapolis, Irvine, Los Angeles (LA), Manhattan, Minneapolis, Nashville, New York (NYC), Orange County (OC), Pasadena, Palo Alto, Peninsula, Phoenix, Sacramento, San Antonio, San Diego (SD), San Francisco (SF), San Jose, Seattle, Silicon Valley, Washington DC, Toronto, and Vancouver.

SATISFYING SELECTION OF CUISINES

Order from hundreds of delivery restaurants near you, specializing in your favorite cuisines from pizza, chinese food, burgers, sushi, korean food, greek food, italian, mexican, american, asian, bakeries, barbecue, brazilian, cajun, comfort food, desserts, european, fast food, french food, gluten-free, indian, japanese, latin, mediterranean, pasta, salad, sandwich, seafood, soul food, thai, vegan, vegetarian, vietnamese food and more.

Some of our top partners include The Cheesecake Factory, Taco Bell, Carl's Jr., Baskin Robbins, Buca Di Beppo, Buffalo Wild Wings, California Pizza Kitchen, Capital Grille, Gordon Biersch, Rock Bottom, Dickey's, Dunkin Donuts, El Pollo Loco, Grimaldi's Pizza, Johnny Rockets, Just Salad, Claim Jumper, Saltgrass, Babins, McCormick and Schmicks, Maggiano's, Old Spaghetti Factory, On the Border, Patxi's Pizza, P.F. Chang's, Pressed Juicery, Umami Burger, Chevys, El Torito, Who Song and Larry's, Red Robin, SmashBurger, SusieCakes, Togo's, Halal Guys and many more!

Visit doordash.com to learn more.