Numbers that matter.
Dreamdays HD - Countdown to the Days that Matter
by Alex Zhu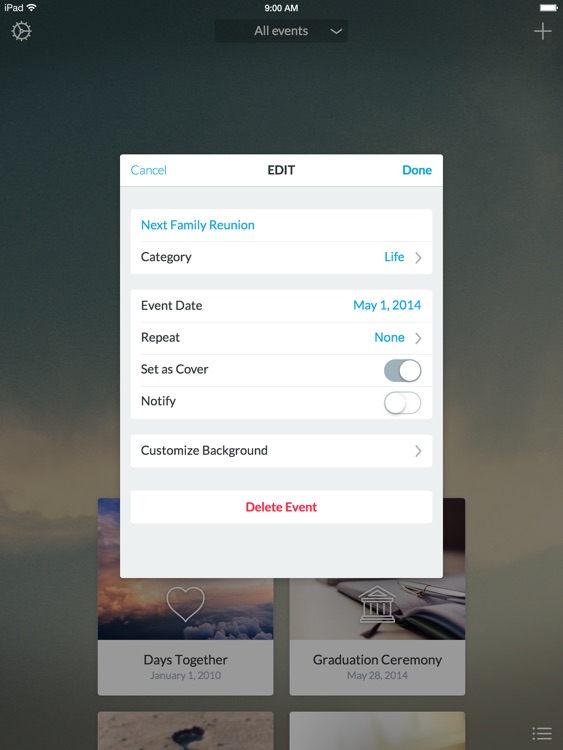 What is it about?
Big thanks to 5 million Dreamdays users worldwide! Dreamdays HD has been completely reimagined and redesigned for the iPad. We are looking to enhance the countdown experience on the larger canvas with beautiful photos for each event. With Dreamdays HD, you can sort through your countdown events by categories and time. You will be able to get an overview of all your countdown events, customize each event with your personal background, and share your delight with friends on Facebook, Twitter, Instagram, Tumblr, and Flickr.
For those who...
Dreamdays HD is the perfect app for those who have trouble remembering important events.
Not for those who...
If you prefer simple event tracking, stick with the native Calendar app.
Why we love it
Keep the focus on the positive things in your life with Dreamdays HD. It doesn't have to be just for anniversaries and birthdays. It can be for anything that's important to you.
Dreamdays HD is $0.99 but there are more add-ons
App Store Description
Big thanks to 5 million Dreamdays users worldwide! Dreamdays HD has been completely reimagined and redesigned for the iPad. We are looking to enhance the countdown experience on the larger canvas with beautiful photos for each event. With Dreamdays HD, you can sort through your countdown events by categories and time. You will be able to get an overview of all your countdown events, customize each event with your personal background, and share your delight with friends on Facebook, Twitter, Instagram, Tumblr, and Flickr.


Main Functions & Highlights:
- Supports countdown to events and counting up once they arrive
- Toggle between time in days and years/months/ with a single tap in each event
- Six default categories (Anniversaries, Birthdays, Holidays, Life, School, Travel) and the ability to add customized ones
- Set your favorite event as cover with ease and style
- Push notifications to remind you of an arriving event
- Ability to sort events by time
- Customizable background for each event
- Sync to the cloud across all of your iOS devices
- Passcode protection to keep your privacy safe
- Widget/Today in notification center
- Share your joy with friends on Facebook, Twitter/Twister, Instagram/Hyperlapse, Flickr, Tumblr, snapchat & Swarm/Foursquare