Fast paced three on three street style basketball with a familiar artistic flair.
Dunk Nation 3X3
by BEIJING HALCYON NETWORK TECHNOLOGY CO., LTD
watch trailer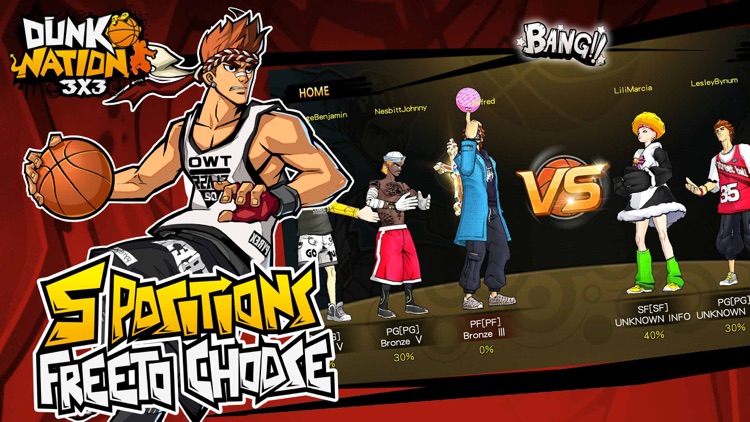 What is it about?
A massively multiplayer online sports game and with stylish graphics. It is a fast paced, arcade styled representation of half court street ball, self-described as being Hip-Hop. The game emphasizes real street basketball match between friends. hip-hop style 3D graphic, selected music originated from street, make your phone become street ball half court (street ball field). Various freestyle skills, Tons of different outfits and wearable items to uniquely personalize the character and express yourself.
App Store Description
A massively multiplayer online sports game and with stylish graphics. It is a fast paced, arcade styled representation of half court street ball, self-described as being Hip-Hop. The game emphasizes real street basketball match between friends. hip-hop style 3D graphic, selected music originated from street, make your phone become street ball half court (street ball field). Various freestyle skills, Tons of different outfits and wearable items to uniquely personalize the character and express yourself.

Career Model:Create your own legend story.

Match Model: Practice with friends, improve your battle skills.

Ladder Model:For the glory of your team, dominate the field.

[Real Time Battle]
Show your handling skills, play with friends and against opponents from all over the world.

[5 Positions Free to Choose]
All 5 positions are available to choose,real-time tactical coordination between teammates to achieve victory.

[Create Your Own Style]
Tons of different outfits and wearable items to uniquely personalize the character and express yourself!

[Build Your Royal Team]
Every position has it's own special attribute and over 20 basketballer figures can be signed in order to satisfy different gamers with different demands.

Homepage:https://www.dn3x3.com
Facebook:https://www.facebook.com/DN3X3
Twitter:https://twitter.com/DunkNationFans
Youtubehttps://www.youtube.com/channel/UCmbqVJeLaAIrSN7hrUbjkyA
Mail:[email protected]